Today's guest post was written by Ed Ammons.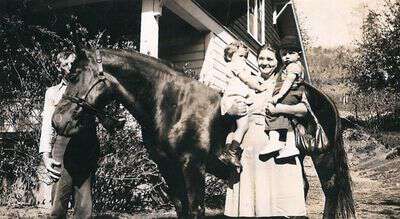 The Baccer Patch written by Ed Ammons
The worst memories of my young life are of the 'baccer patch'. It all started in the fall and winter when Daddy would pile up a huge pile of brush, let it dry and then burn it completely to the ground hoping the fire would kill all the fungi and weeds that could harm the new tobacco plants.
He would then build a frame around the bed using freshly peeled poplar poles. Next he and Mommy would rake the dirt inside free of any rocks, roots, or dirt clods. Then they would mix tobacco seeds with corn meal, to get the seeds to spread more evenly, and sow them in the bed. They would cover the seeds and corn meal mixture with the back of the rake and their hands so as not to cover them too deep. They covered the bed with a thin gauze cloth which was tacked around the sides to the pole frame. The cloth was thin enough to let in light, air and rain. If the weather looked like it might get too cold, they had an assortment of old quilts, blankets, and anything else that could be thrown across the frame to protect the tender plants.
When there wasn't enough rain the plants had to be watered. Mommy would take her cupped hand and throw water on the plants so she could get just enough water in just the right place. One neighbor would give his tobacco plants an extra boost by watering them with tea, water that had been filtered down through a barrel of composted horse manure. More often than not Mommy and Daddy would end up having to buy some plants every year.
When Mommy and Daddy decided the new plants were big enough and the weather was warm enough, it was planting time. The field had to be plowed first. Daddy would hitch up the horse, when he had one, to a turning plow. The ground had to be just right. Too wet and it would dry out into clods the consistency of a used brick. Too dry and the plow would run only a couple of inches deep. To make it tougher parts of the field might be dry when other parts were wet.
Next he would use a float or a harrow to break up the rough ground left by the plow. A couple of years I remember him cutting down a small tree, hitching it behind the horse and dragging it around the field to smooth it even more. If he was lucky it wouldn't come a hard rain and wash ruts across the freshly prepared field and force him to do it all over again. Or maybe the rain would wait until the plants were in the ground then come and wash everything away together.
Daddy never had much luck with horses or mules. He didn't have money to buy young ones, so he ended up burying one horse and selling one that got too old to work. I don't remember it, but he told me about an old blue mule he had that broke its neck skidding logs. I don't know whether blue was the color of the mule or his name.
On years Daddy didn't have a horse, he might borrow one from a neighbor. On years when a neighbor needed a horse, Daddy would loan his. Sometimes he would pay someone to come and plow. It wasn't unusual in those times to see an old farmer with his horse or team fully harnessed dragging its singletree or their doubletree with a plow attached. The plow would be on its side so as not to wear out the point or plow up the road. The farmer would bring up the rear, strolling along at the horses' plodding pace, occasionally turning his head aside to squirt a stream of brown 'baccer juice; from his mouth. You could hear this combo long before you saw it. One neighbor had a horse that knew how much his owner loved to talk and would stop automatically whenever it passed someone along the way.
Looks like I've wandered away from the 'baccer patch'. Anyway, as modern times approached and farmers were becoming mechanized, nobody was loaning their tractors. So Daddy did the best he could with what had. He bought a "garden tractor" which had two big wheels under the engine with handles that extended back to the operator and held the throttle and direction controls. To crank it you had to wind a rope around a pulley, put the choke on and jerk with all your might. If you were lucky the thing might start after the 155th try. There were several attachments to be had but Daddy only had a plow and disc harrow. The plow wasn't like its "hillside turner" cousin that could be flipped over the end of the row and go back the other direction. This plow was stationery and you had to plow in circles with it like you do in the flatlands.
—————–
Pap never raised tobacco nor did his Daddy or Grandpa that I know of so I don't have any first hand knowledge about growing tobacco. I have heard Pap describe how his mother started tomato seeds in the early spring. She did it almost exactly like Ed's parents started their baccer seed.
Ed's line: "Or maybe the rain would wait until the plants were in the ground then come and wash everything away together." reminded me of the Poor Man song remember it? If you missed it you can go here to hear it.
I hope you enjoyed Ed's baccer memories as much as I did. Leave him a comment and I'll make sure he reads it!
Tipper