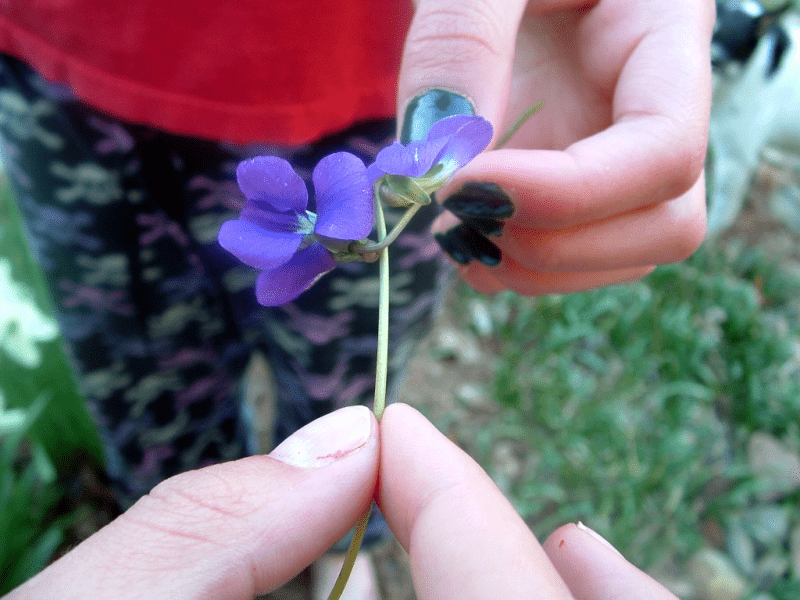 The violets have been blooming around my house earlier than they usually do this Spring (along with everything else). A few years ago I did a series of violet posts here on the Blind Pig, everything from making violet jelly to using the flowers for medicinal purposes. I also shared the details of a game I played as a child-fighting roosters with violets. Here's what I said:
I can't remember who showed me how to play, maybe an older cousin, maybe an Uncle, maybe even Mamaw. I do remember exactly where they showed me. We were on a little bank that ran near the bottom of Pap and Granny's driveway the bank isn't there now its been bulldozed away as driveways were needed for new houses.

It only takes 2 people to fight chickens with violets. Each person picks their rooster. Then you link/cross them over each other and pull. The toughest Rooster wins when the looser looses his head in the fight. Did you ever fight violet Roosters when you were a kid?
If I remember right, two years ago when I asked the question only one person said they knew about rooster fighting with violets. It was Lonnie Dockery.
Recently while thumbing through my Dictionary of Smoky Mountain English I found this:
Rooster fight-A children's competition of various kinds, esp to pull the stems of violets against one another to determine which is stronger.

1978 Smokies Heritage 146 To mountain children the violet was known as "roosters." A favorite game resulted in "rooster fights", in which two violets were hooked together in the crooks of their stems and pulled; the winner pulled off the flower of the opposing violet.
I was so excited when I found rooster fighting in the dictionary. I was beginning to think mine and Lonnie's family were the only ones who played the game and since we have a family connection I wondered if one of our ancestors made it up.
Playing the game makes me think of children sitting along grassy banks. Children who are supposed to be sitting still while grown ups do whatever it is grownups do. Children who find a way to entertain themselves with what they find around them. At least that's how it seemed back in my violet fighting days.
Tipper
Appalachia Through My Eyes – A series of photographs from my life in Southern Appalachia.