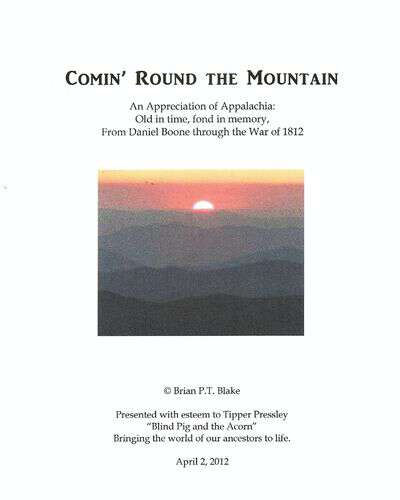 It's been over a year since I first became acquainted with Brian Blake of Shelton, Connecticut. Blake discovered the Blind Pig & The Acorn Blog while researching Appalachia for Under Brilliant Stars-a biography of his great-grandfather.
Brian Blake's grandfather, Colonel John Y.F. Blake, 1856-1907 was a celebrated commander of the Irish Brigade in the Boer War. John Y.F. "Beau" Blake's father, born in East Tennessee in 1813, was a woodsman.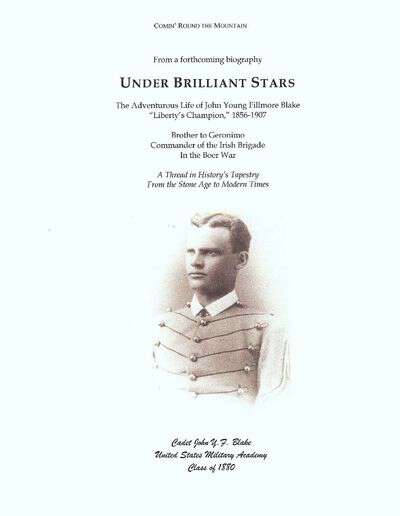 Last spring, Brian Blake asked me to review "Comin' Round the Mountain," an excerpt from the forth coming biography which deals with his family's history in Appalachia from Daniel Boone through the War of 1812. I was thoroughly impressed with the excerpt; it left me wanting to know what came before in the Blake Clan's history-and what came afterward as well. I was tickled pink when Blake said I could use the excerpt as a giveaway here on the Blind Pig.
Information about the Biography in Blake's own words:
Acclaimed as "Liberty's Champion," Colonel Blake's inter­national career span­ned the Wild West and the Age of Imperialism. Placing this intrepid adventur­er in perspective, Brian's book surveys England and America from 1262 to the Edwardian Era, with twenty generations of the Colonel's forefathers as a common thread. His family chronicle from Colonial Virginia to Frontier Texas is the saga of America. This sketch of the life and times of our country's pioneer ancestors should appeal to all who wonder who we are and how we got that way.

Under Brilliant Stars was begun in 1984 for our author's now-grown son, and is due for completion in 2012. For genealogists seeking to swell the parade, an appendix will list over sixty related families. Our Comments Prize pamphlet includes a page of "Family Thoughts," the book's table of contents and foreword, and a recipe for hellfire stew, that staple of the Confederate Army in the Civil War.

Now retired from a career in banking and finance, Brian is a director of the New York Society of the Founders and Patriots of America, a Vietnam veteran, and a graduate of Harvard University. I'm sure you, too, will enjoy "Comin' Round the Mountain" when she comes.

Brian P.T. Blake
While I'm sure the entire book, Under Brilliant Stars, will be a fascinating read; I feel positive anyone with an interest in Appalachia will more than appreciate the excerpt "Comin' Round the Mountain".
Leave a comment on this post to be entered in the giveaway. (The giveaway ends on Sunday April 15th )
Tipper