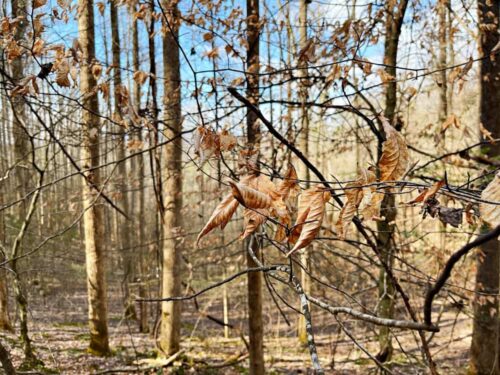 Over the weekend we went on a hike with friends. It was a beautiful day to be in the woods.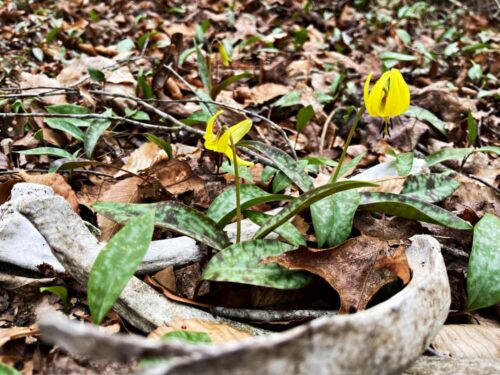 The trout lilies are just beginning to bloom and the sarvis trees were shining white across the mountains.
I was awe struck by the numerous beech trees we saw. If an area has ever deserved the name of Beech Cove or Beech Holler it was surely that land.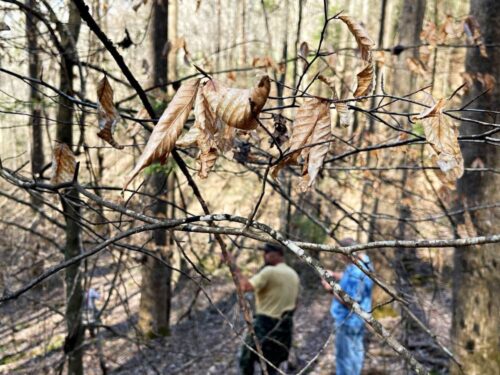 This time of the year beech trees are easy to spot in the woods. Their leaves from last summer are still hanging on even though Spring and new growth is just around the corner. The papery tanish goldish leaves stand out in the open woods like left over Christmas decorations. When I see the leaves shining through the forest I always think of them as being golden garments for the trees.
Beech trees grow throughout the eastern portion of the US—from Canada to Florida and can grow as high as 80 feet. The trees have tiny flowers in spring, but I've never seen them.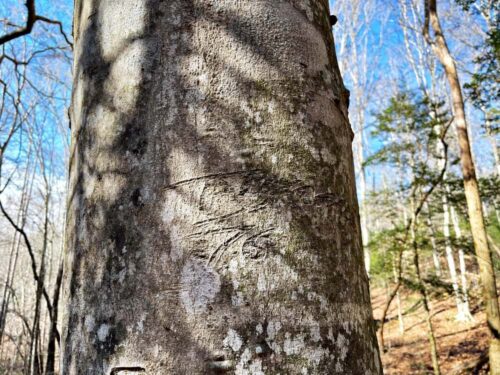 The trees are noted for their smooth bark and for their nuts. I've never tasted one, but older folks in my area say the nut is sweet and in days gone by was a treat they enjoyed in the fall of the year.
The area we were in had some dandy beech trees, many of them were huge! When The Deer Hunter sees a large beech tree he always checks to see if anyone has carved on it. The smooth light colored bark lends itself to artwork.
As usual he was rewarded by finding the carving above. The name is no longer legible, but the year of 76 is still easy to see.
I was six years old when the name was carved. We had just moved into Granny and Pap's newly built home here in Wilson Holler. My the changes that have come to my life, Brasstown, and the world since the day the knife was laid to bark. I wonder if the author is still living. I wonder what he would think about us finding his work and sharing it with the world.
The Frank C. Brown Collection Of NC Folklore says beech trees are special because they are never struck by lightning and will in fact protect you from lightning. I say beech trees are special because they welcome Spring of the year with their golden garments.
Last night's video: Mountain Talk from Appalachia.
Tipper
Subscribe for FREE and get a daily dose of Appalachia in your inbox