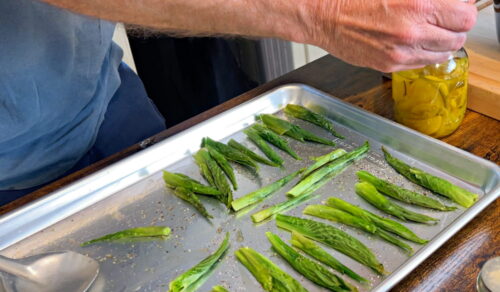 Several years back I came across a foraging article about eating hostas. I was immediately intrigued, because if there's one thing I have its hostas.
Years ago when we first moved into our house I didn't have money to purchase plants, but would gladly take them from anyone willing to donate them to me.
My aunt loves growing things as much as I do and for a good long while every time I went to visit her in Canton, NC I brought home a car load of plant starts from her bounty.
She loved hostas and had all different varieties—from the typical green ones you see to lovely gold and variegated hostas. And if that wasn't enough, she also had miniature varieties.
Hostas are easy to grow and spread and multiply readily if they're happy where they are. Over twenty years later I have hostas growing everywhere thanks to her generosity.
Many of mine have grown so large they desperately need to be divided. I thought I would tackle that issue the last two winters but it hasn't happened yet. I did manage to share a few with Pastor Lon and Robbie Lynn when they were here for the wedding.
After I realized hostas were edible I started munching on them as I worked in the garden, but only got around to cooking some this week.
So what do hostas taste like? The small shoots taste very similar to asparagus and are really tasty raw or cooked. The same is true for the leaves. They have a mild green taste, sort of similar to lettuce or kale and can be cooked up in the same ways or eaten raw.
Once the leaves get really large and sort of hardened by the elements they are much tougher and not quite as good, but are still edible. In fact, according to the articles I've read the entire hosta plant is edible including the blooms, although most folks say they are rather bland. You can do some research yourself if you're interested in trying hostas. The main thing I noticed folks warning about is pretty obvious: you wouldn't want to eat plants that have been sprayed with something harmful.
Tipper
Subscribe for FREE and get a daily dose of Appalachia in your inbox