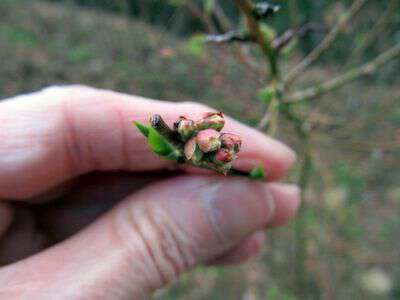 A hard freeze warning has been issued, for the following 2 nights, for much of the South. This means my…hostas will turn to mush, my ornamental Dogwood's blooms will turn black, my Bleeding Hearts will shrivel up to nothing, and my Peonies will fall over in a dead faint.
In my area it's hard to tell when the last killing frost will occur. Some years-like this year-we have too many days of warmer than average temps which results in plants being farther along in their growing season than they should be.
In the Spring of 2007 Western NC had a sever hard freeze in April-some of the agriculture crop was declared a federal disaster. That year, I had 2 blueberries on my bushes at harvest time.
To prevent the freeze from killing everything, I try to cover up as much as I can. My Hostas are to numerous to attempt covering-and I know they'll come back out once warm weather returns.
I cover my Lilies, Peonies, and the thing I love the most-my Blueberries.
I use buckets or containers to cover the flowers-and sheets for the Blueberries.
I ask Pap if his parents did anything to protect their tender plants when a hard freeze was expected. He said in most instances-they just replanted what was killed. He said-folks where usually careful not to plant warm weather crops until after May 1. Pap said the killing frosts of his youth hurt folks-cause it hurt the animals. Those killing frosts lay claim to natures bounty-acorns, hickory nuts, walnuts-in other words the mast of the forest. In those days-folks depended on nature's offerings to help feed thier livestock and to feed the game that would be harvested for the kitchen table.
What about you-do you have to worry about late freezes in your area? If so-what do you do to lessen the damage they inflict?
Tipper