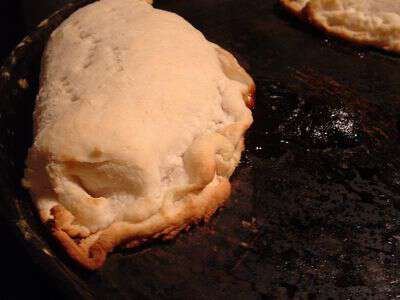 Today I'm going to show you how Granny makes Fried Apple Pies. I bet most of you have already noticed the pie in the picture isn't fried. If you did you're smarter than I am. It took me 20 years to figure that out. Well not really. I always knew they weren't fried, but Granny and all the rest of us call them fried pies. Sometime after I was grown, probably the first time I made them myself I realized we called them fried pies even though they're not.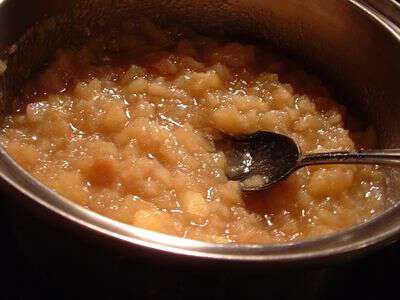 First Granny opens a jar of applesauce along with sugar to taste she warms it through on the stove.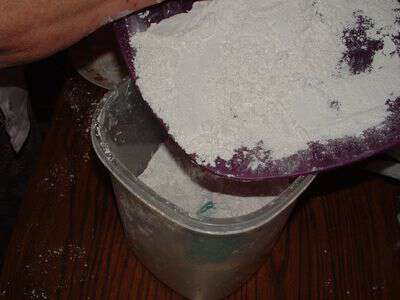 While the applesauce warms Granny preheats the oven to 450 degrees and makes the dough.
Granny sifts 2 cups of plain (all purpose) flour and 1 teaspoon of salt into a mixing bowl. Granny says "don't forget the salt or the pies won't be any good."
Next add 2/3 cups of shortening to the flour/salt mix.
Mix the shortening into the flour a pastry cutter works good, but Granny just uses her fingers.
Once the shortening is mixed thoroughly with the flour Granny said to add 5 to 6 tablespoons of cold water or more if you need it.
After the flour has come together in a stiff dough Granny divides it into 6 lumps.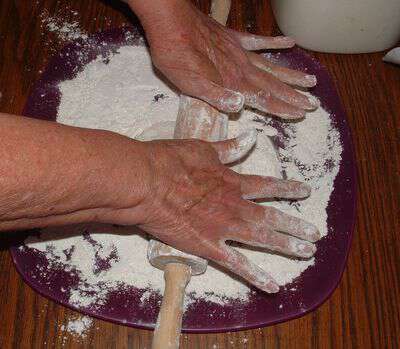 Granny said "everybody has their own way of doing this part and this is how I do it." She rolls each lump out to about the size of a salad plate.
As Granny rolls each lump out she piles them in a plate with flour between each to prevent them from sticking.
When Granny is through rolling out the dough she puts the excess flour back into the canister "so it don't waste."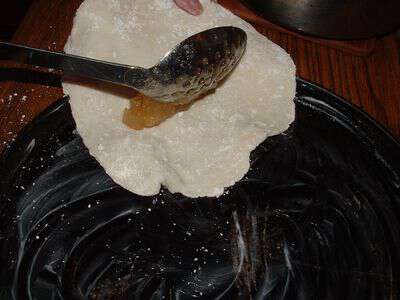 On a greased bread pan, Granny puts a large spoonful of applesauce in the center of each round, folds it over, and crimps the edges shut with her fingers. She takes a fork and pokes holes in the top of each pie to let the steam escape and then bakes the pies at 450 for about 20 minutes or till light brown. (if you want them a deeper golden brown Granny says to brush the tops with melted butter before you bake them)
So there you have it Granny's Fried-I mean Baked Apple Pies. They are delicious piping hot straight from the oven, but they're good the next day with a glass of cold milk too.
I asked Granny why she baked the pies instead of frying I thought maybe her mother did it that way too. Granny said somewhere along the way she started baking them cause she was never pleased with how her fried ones turned out.
Have you ever seen anyone else who bakes them?
Tipper