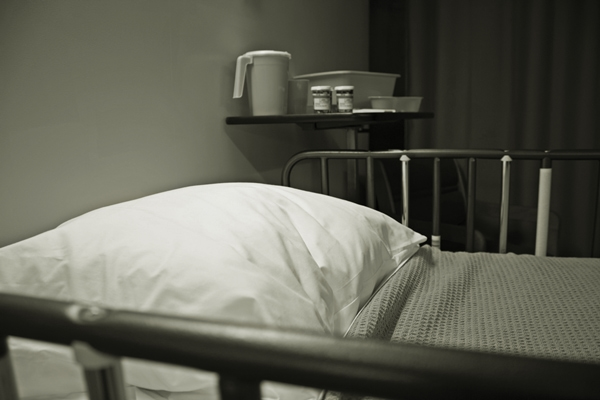 "When a member of the family become ill, no matter how minor, family members "set" up with that person all night. Since doctors were not handy to diagnose the seriousness of an illness, families feared the worst in any illness. Often neighbors set up, to give the family some relief from care giving.
Lamps were turned down low, and if there happened to be an electric light bulb suspended from the ceiling, there was a paper shield wrapped around it to dim the room. That was done to protect the sick person's eyes from the bright lights.
If the sick person was "up in age" and almost sure to die, family, friends, and neighbors came and set up. Voices were kept low and the sick person was checked often. Nearing the end was called the "death watch." The elders knew when the end was near for their loved ones, by the "death rattles," a rattling sound made by the sick when breathing.
Men sat up with sick males and women took care of their own and children.
Everyone was interested in the condition of his or her sick neighbors, and information spread by word of mouth."

—Betty Riddle – "Reflections on Mountain Heritage" published by the Gilmer County Genealogical Society, Inc.
---
Setting up with sick people is hard and troublesome. It leaves one wishing they could take away the pain and suffering of the sick person and struggling with the need and duty of being there fighting with the desire to be elsewhere.
I remember when Papaw Wade was sick there was a time that we thought it was the end and everyone was called to come and set and wait like the death watch Betty describes. The house was full, but Papaw didn't die that night. When his time came, there was only four of us and there was no time to call for everyone else to come.
If you'd like to pick up your own copy of "Reflections on Mountain Heritage" you can find it here for a very reasonable price.
Tipper
Subscribe for FREE and get a daily dose of Appalachia in your inbox