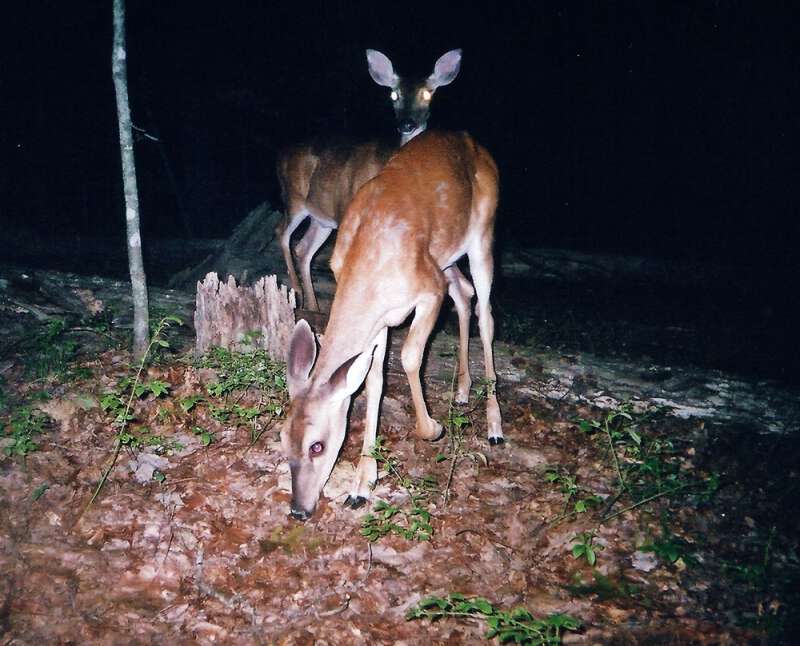 Deer captured on a trail cam on the ridge above the house 2004
On last week's garden post, Blind Pig Reader David left the following comment:
Any tips for how to handle deer helping themselves to the garden?  Might make good blog material.
When I was a kid seeing a deer in this area was very rare. Hedden Road was gravel in those days and every Sunday after church we'd head out Hedden Road, taking a short-cut of sorts to reach the highway that lead to Granny Gazzie's.
One Sunday we were almost to the end of road about to come back out on the black top when we saw a deer. Wow did we all get excited, especially Steve and me. Seeing the deer was like seeing an exotic animal. The way we carried on you'd have thought we saw a zebra or a tiger standing the side of the road.
Present day is a totally different story. I rarely drive through Brasstown without seeing at least a few deer in a field if not bounding across the road in front of me. This morning two young deer crossed right in front of Granny and me as we went to the grocery store.
Lots of folks in this area have problems with deer mowing down their gardens. Thankfully we haven't ever had a problem. I'm guessing its because of the neighborhood dogs that roam around at will, especially Steve's two: Griffin a chubby blue tick beagle that is so shy he won't let me pet him and Molly a golden retriever looking dog that will climb in your lap if you let her.
Some folks build fences to protect their garden bounty from deer, but that is a very expensive route to take and doesn't always work since deer can jump up to 8 feet.
Other tips I've heard:
spread human hair around
hang soap around
sprinkling urine around-both human and predator that you can buy
store bought repellents
noise makers  like B.Ruth's deer startle
I've not tried any of the things mentioned since I've never had a problem with deer in the garden. I have heard folks say most of the suggestions don't really work. While googling around for this post I found this video-seems like the method would work.
If you have any other tips for David please leave a comment!
Tipper