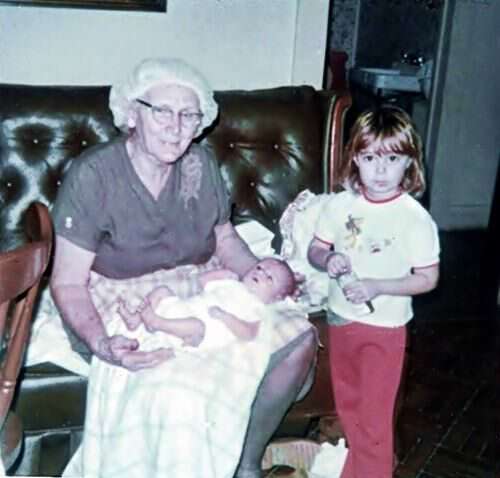 Granny Gazzie, Paul, Tipper
maw maw noun Grandmother. Same as ma 2, mama, mee maw.
1968 DARE = term for a grandmother (Brasstown NC). 1997 Montgomery Coll. (Adams, Bush, Cardwell, Ledford, Weaver).
mama, mamaw noun A grandmother; also a form of address. Same as ma 2, maw maw, mee maw.
1942 Hall Phonetics 77 A curious form is [mamaw], which I heard a middle-aged man use in addressing his grandmother. 1962 Dykeman Tall Woman 135 "What happened to Mamaw Moore?" Martha asked, as Lydia braided her hair. 1997 Montgomery Coll. mama (Adams, Bush, Cardwell, Norris).; mamaw (known to eight consultants). 1999 Hodges Tough Customers 46 Mama sure wouldn't help.
Dictionary of Smoky Mountain English
——–
I grew up with a mamaw and a granny. The girls have a Granny, a Miss Cindy, and a Nana.
All the grandmother monikers in the dictionary entries are still very common in this area of Appalachia. And like in my own family there are various other names used for the beloved grandmother.
A few weeks back I stumbled onto a very funny video about picking your grandmother name. You may have to click the speaker icon on the bottom right of the video to turn the sound on.
No matter what you call them I'm just glad the world has grandmothers. I know both of mine certainly influenced my life and the influence Miss Cindy, Granny, and Nana have had on Chatter and Chitter's is beyond priceless.
Tipper
Subscribe for FREE and get a daily dose of Appalachia in your inbox