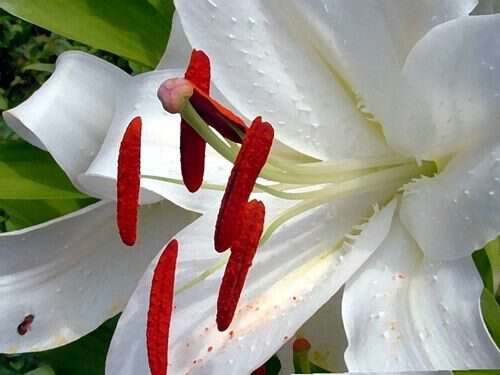 As I've grown older sweet thoughts of childhood have grown sweeter still. As I go about my day I'll often find myself remembering the simplest of memories from days gone by. Lately most of those memories have centered around Granny.
From the silly and ridiculous memories to the precious and heart warming ones I've found myself thinking of her often. It's probably because I want to soak up every ounce of mother from her that I can get while she's still here.
Estelle Darrow Rice is a phenomenal poet, who often writes of home and days gone by. Today I'm sharing one of her poems about home and mother with you.
                     "The Back Porch Steps"
             Lilies of the Valley, their tiny bells
                     as white and innocent
                   as a child's dream, grew
                  beside our back porch steps,
             where in the evening Mother and I
                 watered her rose garden.
        Sometimes we sang, but mostly we talked.
      We planned to decorate my playhouse curtains
              with rick-rack. We'd fill a window box
                  with pansies and petunias.
            These were the things we talked about
                         When I was ten.
                 Now my dreams transport me
                 to that time when she and I
                 sat on the back porch steps.
                  I still hear her gentle voice,
                        and her laughter.
              I remember the fragrance of roses
                   and I am certain I hear
               the tinkling of tiny white bells.
—–
Last fall Estelle lost her husband Nevin. They had been married for 71 years. Isn't that amazing? They knew one another since they were in school and raised three daughters together. I haven't got to see Estelle in more than a few years, but I bet she's still writing poetry and I know she's still smiling her lovely smile.
Tipper
Subscribe for FREE and get a daily dose of Appalachia in your inbox