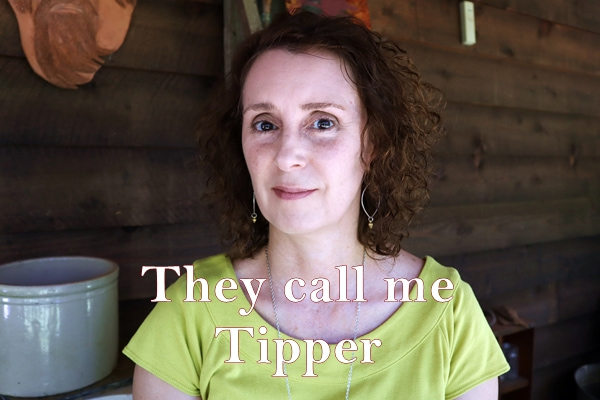 I'm into nicknames…not hard to guess since mine overtook my real name a long time ago.
In case you haven't heard the story—my older brother Steve named me Tipper when I was learning to walk. He's five years older than I am and like any good big brother he was always worrying about his baby sister. Granny had some sort of walker thing she put me in as I was learning to walk and Steve was worried I was going to tip over. His fretting about me tipping over soon led to them all calling me Tipper.
I was always Tipper at home, but was way to backward at school to tell the teacher I preferred to be called Tipper. It was only as a young adult that I realized I thought of myself as Tipper not my given name so I started going by Tipper all the time not just among family.
Sometimes we give folks nick names to clarify who they are.
My friend Jackie was talking to me and she mentioned new Bob. She went on to explain she had to call him new Bob because when he showed up there was already a Bob on the place and having two confused things so she called one new Bob and one old Bob.
The girls and their cousins were talking about how little Mark used to get so mad at them for calling him little Mark. But it was a necessity since there was already a big Mark around. As I listened to them I was reminded of a man that lives down the road. We called him John-John or little John when we were kids because his daddy was a John too. He grew up just like the rest of us did, but every time I see him before I can stop myself I say "Hey John-John." I don't think he minds, at least I hope he doesn't.
Pap was into giving nicknames when we were growing up. To name a few there was Rooster, Lead-foot, Cutie-Pie, Bluebird, Pickle, and Mud-turtle. They all played on Pap's baseball team. Some of those boys are now fifty something year old middle aged men walking around with the names Pap give them so long ago.
A couple of years ago I ran into Mud-turtle. He'd been gone from the area for years. I asked him if he was Mud-Turtle. I could see him trying to connect me back to his childhood days so I told him who I was. He said "I had forgotten they called you Tipper now I know exactly who you are."
One of the first cell phones Chitter had always changed her sister's name to Copie. There's been quite a few cell phones between the first one and the one she uses today, but we all call Chatter Copie because of that first phone.
Tipper
Subscribe for FREE and get a daily dose of Appalachia in your inbox