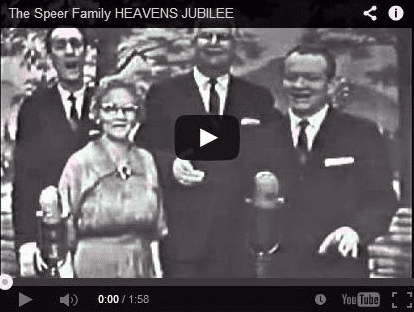 The Speer Family played a significant role in the early days of Southern Gospel Music. G.T. Speer headed up the family band, with wife Lena, sister Pearl, and brother-n-law Logan Claborn rounding out the rest of the group. As time went on the make up of the band changed along the way, with G.T. and Lena's son Ben Speer making a lasting impact on the band as well as Southern Gospel Music in general.
G.T. was born near Fayetteville, Georgia. He worked as a teacher at the Stamps-Baxter School of Music in Dallas and taught at the Vaughan School of Music in Tennessee. In 1971 G.T. was inducted into the Georgia Hall of Fame. The following quote comes from the GA Hall of Fame Website:
"The rich heritage of The Speer Family began in 1921 when G.T. "Dad" Speer, a Georgia farm boy turned music teacher, formed the first Speer Quartet, comprised of Dad, his wife Lena (who also played the piano), and his sister and brother in law, Pearl and Logan Claborn. The group gained notoriety, not only for its distinct sound, but for its integration of female voices in a field that was dominated at the time by male-only quartets…As Dad and Mom Speer's children – Brock, Rosa Nell, Mary, Tom and Ben – were born, they were taught music and soon began stepping into the group following the Claborns' departure in 1925…After Dad Speer's death, the group needed tenor singers and there have been many, such as Sherrill Nielsen, Charles Yates and Harold Lane…At different intervals in its history, Brock's three children Suzan, Marc and Brian and two of Ben's, Stephen and Darin, have also played roles is the gorup…Currently recording for the Homeland label, The Speers have a recorded legacy that includes more than 70 albums released on a variety of labels, including RCA, Columbia and Benson. Their honors have been numerous, including Grammy nominations and Dove Awards, throughout a career that is 75 years old and still going…Four Speers are already in the Gospel Music Hall of Fame – Dad Speer was inducted in the Hall of Fame's first year, Mom Speer in its second, Brock in its fifth year and Ben in 1995. The Gospel Music Association bestowed its Lifetime Achievement Award on the group, making them the only group to ever receive that award. The Nashville Entertainment Association honored them with its Heritage Award."
The Speers have many original songs under their belt with perhaps the most famous being Heaven's Jubilee. For the last few weeks the Blind Pig Gang has been doing another one of their original songs-I Never Shall Forget The Day.
In this video-Pap, and Paul with Tipper thumping along on the bass and Chatter chopping along on the mandolin off camera.
Hope you enjoyed the song and the history!
Tipper