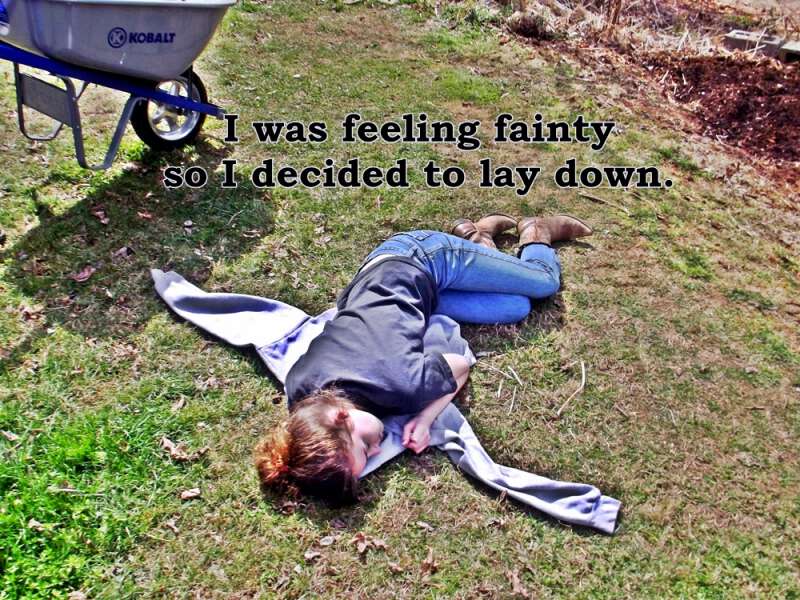 faintified, fainty adjective Feeling suddenly weak or faint.
1952 Wilson Folk Speech NC 538 This hot, dry weather makes me feel sickly and faintified. 1967 DARE faintified = having a sudden feeling of weakness, when sometimes the person loses consciousness (Maryville TN); fainty = having a sudden feeling of weakness (Gatlinburg TN). 1995 Montgomery Coll. I'm a little fainty this morning (Cardwell).
Dictionary of Smoky Mountain English
——————
Although I've felt fainty before, I've never actually passed out.
Since The Deer Hunter and I never had our wisdom teeth surgically removed we knew very little about the procedure the girls underwent last week. We were totally amazed at the speed with which the teeth were removed and we were surprised that it could be done in a dental office. We wrongly assumed it would be out patient surgery in a hospital.
The folks who took care of the girls had the process down pat. Kids were going through there like an assembly line on the morning Chatter and Chitter had their teeth out. Lucky for us, the girls were the first patients of the morning.
Chitter went first and seemed fully awake and alert by the time Chatter was finished and both girls were in the recovery area. After about 20 minutes of sitting with them, the nurse said we were ready to go.
While Chitter was talking up a storm, Chatter was still so drowsy I was worried about her and questioned whether we shouldn't stay just a little bit longer. The nurse assured me she was fine and after giving us a list of instructions she helped us out the back door and into the car.
I left worried about Chatter, but it was Chitter who scared us to death.
We'd barely got back on the highway when Chitter said she thought she might be sick. I was in the backseat with her and as we headed for home she got paler by the second. Twice she leaned over and squeezed my knee with the scariest expression on her face which made me feel totally panicked.
We'd only gone about 2 miles when she said she had to stop and get out because something was wrong. The Deer Hunter pulled into the next gas station and opened the car door for Chitter in case she threw up. In a flash Chitter passed out cold on us. I said "Let's take her back! Let's take her back!"
The Deer Hunter jumped back in the drivers seat and quickly headed us up the road.
Chitter came back around but kept telling us she couldn't see, that everything was white. I was practically sitting in her lap. I kept patting her face and telling her it was going to be alright.
By the time we pulled back into the dentist office her lips were white as snow leaving the rest of her face the color of ashes.
I ran inside and got one of the nurses, who calmly came out and helped Chitter back inside to a dental chair.
Chatter still wasn't talking, only staring around like a newborn baby. While I was grabbing my stuff she looked at me and said "No separate."
I knew that meant she didn't want to leave Chitter. I said "Yes you're going to separate! Your Daddy is taking you home, you got to take care of yourself and there ain't no where for you to lay down in there anyway."
Once Chitter was laid back in the dental chair and covered up with a blanket her pretty lips became pink again and her skin gained back its youthful glow. The nurse said Chitter's blood pressure dropped really low, which can make you dizzy, nauseous, and even cause you to pass out. The drop did all three to Chitter. Although rare, the drop in blood pressure can happen after anesthesia is administered during dental surgery.
Chatter made the trip home without incident. We had a friend staying with us so The Deer Hunter was able to leave her at home and come back and get us.
On the second try Chitter made it home without a hitch.
Later I asked Chitter why she kept squeezing my knee in the car. She said "I knew I was going to pass out, I could feel myself fading away and I thought if I held onto you I'd be holding onto consciousness." I said "Ah that was why your expression scared me so bad. You were conveying that strong feeling of need directly from your eyes to mine." We sometimes tease each other about having spidy senses-you know like spider man. Chitter's face alerted every motherly spidy sense in my body.
The girls having their wisdom teeth surgically removed made me feel faintified. Actually I still feel fainty about the whole thing.
Tipper