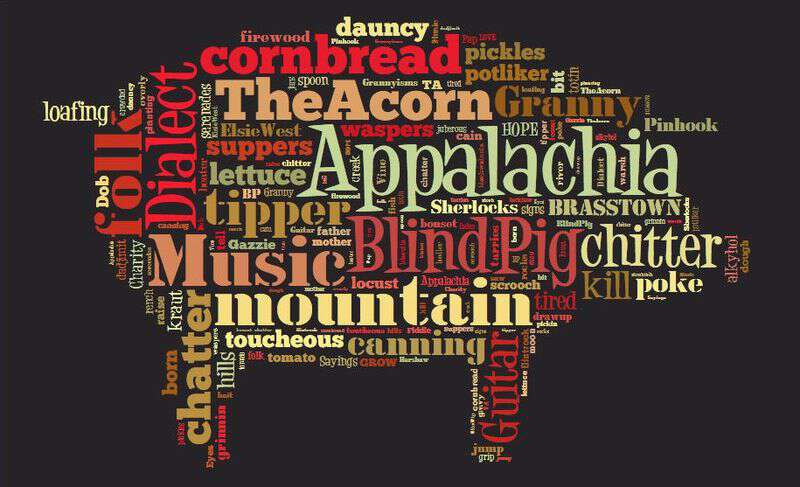 Next week I'll be attending the annual Wilderness Wildlife Week held in Pigeon Forge TN. I'm honored to have been invited as a guest for the event which will run May 18 – 22.
Pigeon Forge has hosted Wilderness Wildlife Week for the last 25 years as a tribute to the Great Smoky Mountains National Park and its heritage. There are tons of presentations and workshops offered during the week-all FREE to the public. You can see some of the choices here. If you make it to any part of the event-please find me to say hello. I would love to talk to you.
Since Pap's passing Paul and I have been studying on how to keep his musical legacy alive. We both see clearly that the Blind Pig and The Acorn has already secured that legacy in many ways. But we have other ideas as well.
We  want to get Pap's original songs out there to folks who will hopefully like them enough to sing them. Know someone who might be interested in Pap's original songs? Please send me an email about them. You can reach me at [email protected]
We want to continue funding the music scholarship in his name at the John C. Campbell Folk School. (In lieu of flowers, the family requested memorials be made in memory of Jerry M. Wilson to the John C. Campbell Folk School Music Scholarship Fund, 1 Folk School Road, Brasstown, NC 28902- a big THANK YOU to all of you who contributed!!)
Paul is planning on producing a Blind Pig and The Acorn cd as soon as possible. He has several songs already recorded by Pap so all we need to do is add a few more songs by the rest of us.
The next item  is more of a long term project.
Over the years we've had many folks ask us if we sold dvds of the videos we put on youtube, we don't…at least not yet. Paul's idea is to produce a dvd of the most watched youtube videos. Each video would have an introduction related directly to the history of the song in Appalachia as well as a connection to Pap. Paul and I would like for the release of the dvd to coincide with the 10th Anniversary of the Blind Pig and The Acorn blog. That gives us 2 years to make the dvd happen. A pretty daunting task, but we're hopeful we can do it. What we'd really like to do is throw a huge release party and invite all of you and even ask you to bring everybody you know!
Paul and I want to produce the dvd for the simple fact that folks enjoyed Pap's music, but we also want to complete the project as a historical look at traditional Appalachian music and the role it's played in the lives of people living in the mountains of Western North Carolina as well as the rest of Appalachia. The history of music in the far western corner of NC can be traced by Pap's very life. From hearing Jim Eanes's song  Two Baby Blue Eyes when he was a young boy wearing overalls in a mule plowed field on the banks of the Hiwassee River to the songs he penned and performed over the course of his life and the encouragement he unfailingly offered to other musicians-Pap played an important role in the musical history of this area.
If you have tips, advice, or suggestions about our endeavors we'd love to hear them!
Tipper