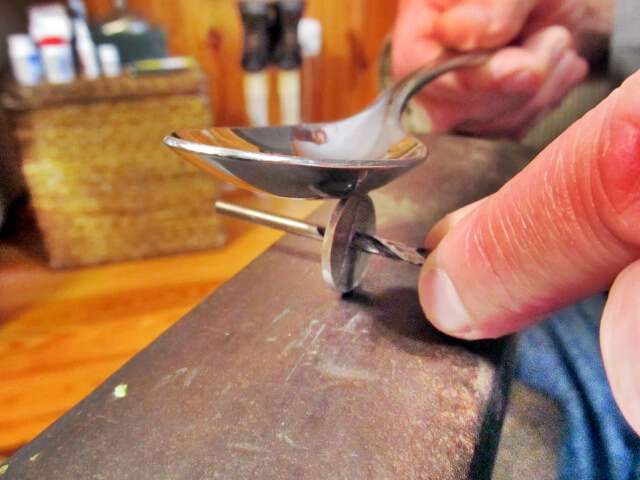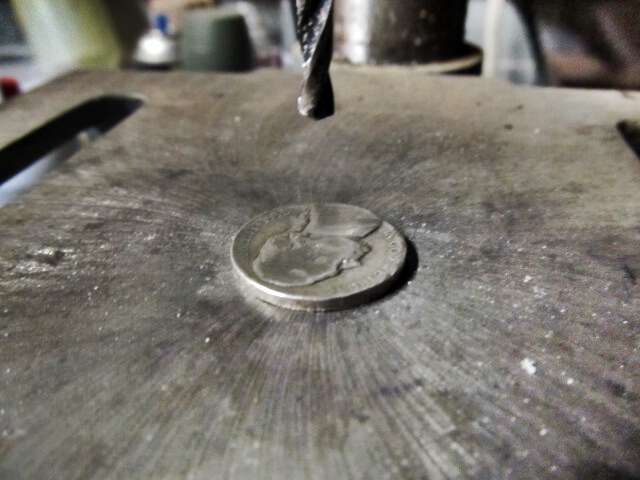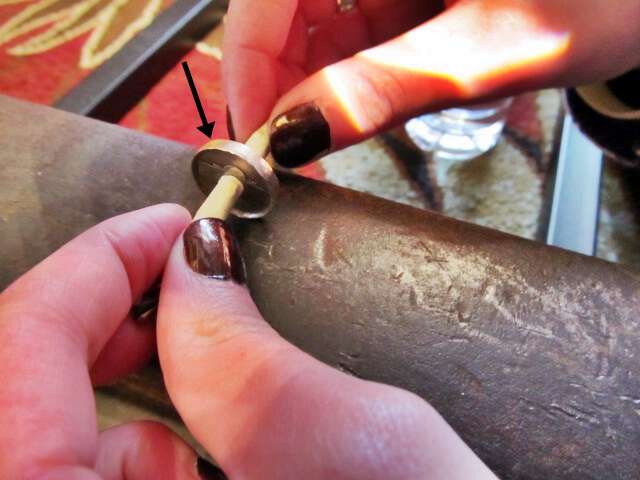 Silver rings made from coins seem to hold so much meaning to me. Maybe it's because you need patience and persistence to make them. Or maybe all the places the coin has traveled somehow remain in it's composition in a measurable way.
I've wanted to 'gift' someone with a meaningful ring ever since Ed Ammons gifted me with one. My want hasn't turned into action yet.
Chitter decided she was going to make one. She used an old silver nickel and The Deer Hunter inserted a small drill bit in the center of the coin to make it easier for her to hold onto as she pecked away at it. She eventually wrapped masking tape around the bit to make it even easier to hold.
You can see the widening of the band in the photo above. The arrow shows where she hit it with a spoon…and other things.
Chitter's ring didn't turn out as nice as Ed's. She sort of tried to speed the process along with a hammer!
She followed Ed's directions (except for the hammer part 🙂 )which are very easy to follow. If you'd like to see how he made mine go here.
As I said at the beginning of this post, I think a handmade ring would make a dandy gift for someone. The gift of a class is also especially nice. You can follow this link to check out all the classes offered by the John C. Campbell Folk School (I'll be teaching my Appalachian Cooking class next August).
And I can't leave you without suggesting one more gift. Chitter's Stamey Creek Creations Etsy Shop has some amazing creations in it. Go here to check them out.
Tipper
Subscribe for FREE and get a daily dose of Appalachia in your inbox