Today's guest post was written by David Anderson.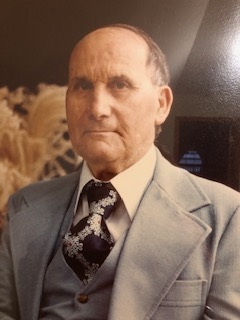 "My Father always Whistled in a Minor Key" written by: David C. Anderson
When my father came along into the world in the year 1907 many firsts were being placed into the log book of history. Included among these few historic and tragic events it was noted that this was the first time Albert Einstein began to apply the laws of gravity to what was later to become the scientist's famous theory of Relativity. In that same year Ford Motor Company produces the first Model R automobile. There was an enormous earthquake in Kingston, Jamaica that killed more than eight-hundred people and produced what was later estimated to be a 6.5 reading on the Richter scale. This scale was later to become the measure of magnitude for earthquakes and the scale was established in the year 1935. The bridge that spanned the St. Lawrence River near Quebec, Canada collapsed into total destruction and, Oklahoma became the 34th state to be admitted into the union. These events at that point in time there in the hills, the coves, and valleys of the North Carolina mountains were most likely paid equally as much attention as that of a star exploding somewhere in the universe some hundred-billion miles away. Most news wasn't given a great deal of attention other than news events that directly affect the welfare of the immediate families.
It seems when someone is trying to describe and relay the circumstances of an individual in a historical context it sometimes becomes too easy to make it sound that this person or persons were the only folk in the world that were hitting on hard times, or who had been drawn into critical circumstances. Casual observation quickly teaches the lesson that no matter what devils a person may be fighting there always seems to be a worse situation just up the cove or around the bend of the road. During the period at the turn of the twentieth century vast numbers of folks here in the mountains were riding along, or for the most part, were being dragged along on the hind wheels of hard times. The Buchannan Anderson family was no different and could have been in a better situation than some, or could have been worse off than others. Who's to say? Circumstances molds lives and I believe that is one thing that would bring on the melancholy that would bring Cline Anderson to always whistle in this sad, and distant sounding minor key.
The steep and convoluted mountain range which made up the long valley where his father's log cabin was situated were beginning to show their new spring coat of green foliage, and his father could begin to take some ease in the fact that he wouldn't be needing to worry about piling up too much more wood for the fireplace that was needed to keep the small cabin warm and  the family nourished. It had been a bitterly cold winter and James Buchannan Anderson along with his wife Sarah Anita had once again managed to come through the siege of winter without having to bury another child from some unknown sickness that so often plagued the mountain folk.
The latest child; Woodard Cline Anderson came into the family on May 7th, 1907 and was the fourth of what was to be a large family with a total of ten children. Of these ten children only seven were able to survive into adulthood. Weltha, who was the second daughter was the first to be taken by some malady that was often described by the older children; "as being drawn into some sort of a seizure" with the results being an early death.
Then little Prady, the third girl to be born into the family was taken by a whooping- cough epidemic, and was soon followed in death by her little brother William who was called Little Willie by all of the remaining family members. The trips that were taken to the little cemetery there in the valley had become a regular and sad occasion. Little Cephus, who was next to the last son born into the family survived into adulthood but was at that time referred too "as not quite right in the head" because he had as an infant became sick with such a fever that he was essentially rendered deaf and was never able to communicate properly. Cephus died as an old man and had been cared for by other family members from time-to-time throughout his life. His care ultimately fell to his oldest sister Zelia who had been born in the year 1898 and who shepherded him through all the last years of his life.
Given the fact that it would be a physical impossibility for someone to pretend to place themselves in a position, a time, or a place, such as has been explained, to correctly describe what affect all these tragedies might have on an individual being? Woodard Cline Anderson seemed to have managed the disappointments and tragedies that he had experienced throughout his life, one of which would bitterly come home to him in the early years of his marriage by having his own infant daughter Doris die in his arms. How does someone manage such events without bearing a scar on their very being for the remainder of their lives?
During his long life Cline had done more than his share of slavish work. He had worked on the WPA crews back in the Roosevelt days. He had worked as a timber cutter for the W.M. Ritter Lumber Company back in the 1940s. He had worked for a time in the shops up in Ohio. He had managed to run his own small subsistence farm as well as managing a dairy operation for another fellow in the community. He and his wife had raised seven children who all seemed to find their successful place in the world without their having to worry about putting up with a member bringing disgrace to the family. He was well respected in his community and had often said that for his use there wouldn't be any need for a court house, there wouldn't be any need of a sheriff, there wouldn't be any need for a judge or for lawyers. He had managed to survive without the need for any of these figures of authority. He was proud to have lived his life in such a fashion as this and was proud just being able to say so without reservation.
In his last years he would at times become somewhat distant and seemed to be in a state of deep reflection. He would take long walks around his home place and all the while whistling in a low, sad, minor key. I don't ever remember being able to pick out any particular song that he was whistling, but he would occasionally hit on a few notes of an old spiritual but would then, and without reason, easily lead into another mournful tune. I never heard him whistle with any excess volume. It seemed as though he was whistling and communication with himself with no consideration or thought as to who might be listening.
In his early years he had been s singer of the old ballads and often mentioned that he once could sing the entire ballad; "The House Carpenter "without missing a word. He had made the trip all the way up to Bethabera which was located in Shooting Creek community where his great- grandfather Lazarus Anderson had settled in the early 1840s. He had made the long journey up to Bethabera Church Cemetery to sing at his grandmother's funeral back in the early 1930s. He remembered that as he sang his sad song they had placed her casket across, and touching both the graves of her husband James Washington Anderson, and her son Bough Anderson. Bough had been killed in an accident as a young man while making a bow for a covered wagon. He had never mentioned the song that he was singing for his grandmother but one can readily assume that it was a sad and mournful dedication to his deceased family member.
He would sometime mention; "what the Irishman had said".  For instance, if someone asked him if he had seen so-and-so lately he would say yes, and then would add; 'like the Irishman saw the moon. From a great distance'! Or if he was frustrated at something he would sometimes softly say to himself; 'faith o' me Christ'.  These ancient utterings were no doubt in reference to stories that had been handed down from his own great-great-grandfather, James Anderson Sr. who was an Irish immigrant as well as an indentured servant to a wealthy plantation owner in the Virginia Colony back in the 1760s. James Anderson Sr. would go on to serve honorably in the Continental Army as a Private when the Colonies were wresting their independence from the British Monarchy.
I would guess that he must have been whistling a medley of the old songs that were taking him back to a time and place that only he knew about. He was once again being conveyed, and was once again able to visiting a long ago place where he could meditate on some of the events in his life that he and no one else on earth would know about. He perhaps could have been thinking on occasions or events that somehow soothed his soul, or perhaps about some mysterious friend or long lost companions that he had known and loved. I believe he drew great comfort from the mysterious and nameless tunes that he was whistling as he wandered along on his earthly journey. I often wonder if it would give him some small measure of comfort to know that someone, or perhaps numerous others still wandering here among the living has taken time to remember the times when he, and without knowing it, also blessed and greatly comforted other souls with the mournful minor tunes that he so eloquently whistled and ultimately blessed us with.
Of all the money that ere I spent, I spent it in good company,
And for all the harm that ere I've done, alas was done to none but me,
And what I've done for want of wit, to memory now I can't recall,
So fill me up the parting glass, good night and joy be with you all,
A traditional Irish song first published ca1782
dave did it 2019
—-
I hope you enjoyed David's guest post as much as I did. I wish I could have heard his father whistle.
Tipper
p.s. If you're looking for something to jump start your Christmas merry making I have just the thing. I might be a little bit prejudice, but I highly recommend Pap and Paul's cd "Songs of Christmas." You can pick up a copy here.
Subscribe for FREE and get a daily dose of Appalachia in your inbox