by Ethelene Dyer Jones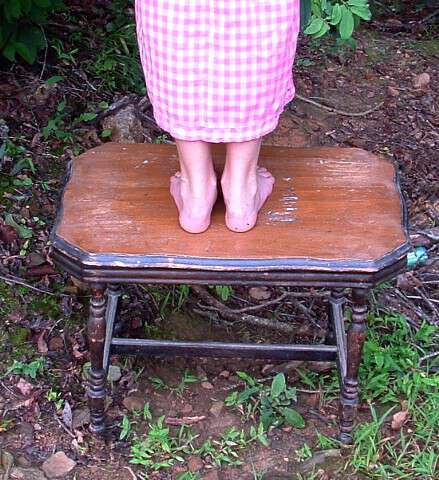 Both grape juice and grape jelly were two of the items we "put up" on our farm when I was growing up in the mountains. My Grandpa "Bud" Collins had a grape arbor. He had the Concord Grape vines staked to a "fare-you'well," so that when one walked under the arbor and it was time for grape harvest, the luscious clusters of ripe grapes hung like purple gold from the vines with broad leaves that ran along the whole length and breadth of the scaffold.
As a child, I was allowed my own small bucket and a step stool on which to stand (having been warned in advance, "Be careful; don't wiggle or you'll fall off the stool!"). From the vantage point of the stool, I could just barely reach the clusters of grapes. My Aunts Ethel and Avery gave me instructions on how to reach to the end  of the cluster and gently pull off the whole bunch of grapes. I would soon have a bucket full and be so happy about my grape-picking accomplishment!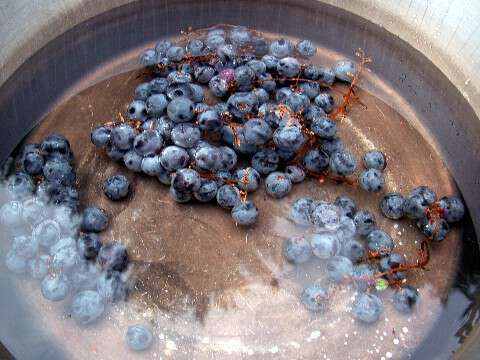 And then came something I really enjoyed:  Washing the cluster of grapes in clear pans of water. We didn't have running water at that time on the farm, so we drew water from the deep well and had two pans in which we washed the grapes-two washings to insure they were really clean.
The next step was pulling the grapes from the cluster and making sure no stems were put into the pot where we would boil the grapes to make juice for canning or for making jelly. I wasn't allowed to cook the grapes at an early age, but then my mother died when I was fourteen, I found myself of necessity in the role of "head cook and bottle washer" on our own family farm, about a mile away from my Aunts Ethel and Avery-who were always good about giving me advice on any cooking, canning or jelly-making challenges.
We made the grape juice as described in "Blind Pig and the Acorn." I can remember our putting the juice we were planning to use during the winter in green fruit jars, washed clean and sterilized, and sitting in a pan of hot water, with a towel in the bottom of the pan to keep the cans from rattling so against each other and breaking. When the hot juice was poured into the cans, the next step was attaching the sealer. When I was a child, we had a rubber ring and a mason jar top for the sealer lids. It was not until later that we got the current-type two-piece "lid and jar" for sealing cans. I can remember how beautiful-and enticing-the jars of grape juice looked sitting on the freshly-cleaned-out cellar shelves underneath the house. All summer long, as one thing and another "came in" (ripened) and was harvested from the garden or the field, we filled cans and more cans to provide us food for winter use. The grape juice was sort of like the proverbial "icing on the cake" -to have something refreshing to drink during the winter months ahead.
We made a "run" or two of jelly-a "run" being the amount we could make with a five-pound bag of sugar, and the juice measured cup for cup with equal cups of the strained grape juice that we did not can. We made the grape jelly before "Sure-Jell" was available to us in the country. It took a lot more boiling time to cook the sugar and juice, and it had to be tested by dropping a drip of it into a cup of cold water to test to see if it had "jelled." I thought it was an amazing invention when Sure-Jell became available, during my teen years when I was in charge of the "Dyer Family" kitchen at our farm. I could make jelly in "jig" time compared to the long boil and frequent testing prior to Sure-Jell days. As an added thought, if we ran out of jelly, we could use the canned juice to make jelly, too.
Then the Fox Grape harvest came. It was a lot harder to gather these wild grapes, for someone adept at climbing trees along the banks of Town Creek where Fox Grapes grew had the privilege of being the gatherer. Usually it was my brother, always adept at "skinning" (climbing up) a tree. He would go with a bucket laced onto his person with a belt. He would soon get a whole bucketful of the tart grapes and descend to get another bucket to fill. Then we'd go home and begin the process-the same as with grapes from Grandpa Collin's grape arbor-to process the juice and jelly from these wild, tart, not-so-purplish Fox Grapes.
It was a lot of work to gather and process these foodstuffs for winter use. But somehow, we had a way of making it all seem like fun. And the rewards were two-fold; First, the pride in seeing the finished canned products sitting neatly along cellar shelves. All of it, whether grape juice and jelly or other products from garden, field and woods, gave a sense of accomplishment, evidence of a job well done. When ladies of our community "visited around" from farmhouse to farmhouse, they all liked to show their visitors their canned winter store. And the second blessing came when we actually ate the products, sitting in a warm kitchen on a snowy winter day, with the bounty of our harvest and of our frugal work spread out in splendor on the Lazy-Susan table in that kitchen on the farm. Was it any wonder that "to say grace" was so customary then? We were thankful for our work, for the provision of our food needs, and for God's bounty in giving us productive land on which crops grew and the hard-work ethic and determination to, like the industrious ant, lay up for the the days when these products would keep us healthy.
(I grew up in the Choestoe District, Union County, GA near Blairsville. We had farmland along the Nottely River and the creeks of Choestoe.)
by Ethelene Dyer Jones
——-
I hope you enjoyed this piece by Ethelene as much as I did. I met Ethelene about 6 months ago-and from the beginning I was mesmerized by her writing and by the knowledge that history is close to her heart-just like it is mine. Ethelene is a historian, a retired educator, a poet, a genealogist, and an outstanding writer.
Tipper