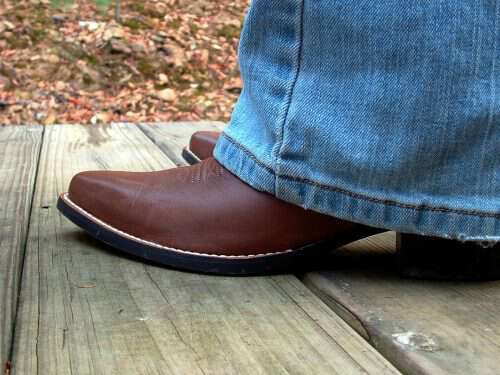 New shoes-we all get them-we all like them. For the last 24 hours there's been a girl walking around my house on cloud 9-cause she got new shoes-or in her case new boots.
We've all heard the stories of days gone by-how most folks only got one pair of shoes a year. They went barefoot from spring till fall to save the shoes for winter months when they were really needed. Stories of having one pair of shoes re-soled several times and passed along to the younger siblings as they were out grown. In today's world most of us have too many shoes to fit in our closet floor.
When I was growing up I was a spoiled child-and a vain child too. I wanted the cool clothes and shoes that everyone else wore. I was in middle school when I got my first pair of Nike tennis shoes-I still remember them-white canvas with a light blue stripe. That blue stripe started a yearly expense for Pap and Granny. Looking back I know they couldn't afford it-but each summer before school started Granny took me to Tigers in Hayesville to pick out new school shoes-most often Nike. I don't recall Steve or Paul ever getting any Nikes-just me. Was it cause I was the only girl-or cause I was the only one who demanded them? I'm sure it was the latter-the boys weren't swayed by peer pressure like I often was. Even though I was selfish enough to beg for the shoes-on some level I must have known what a sacrifice it was for me to get them. I never wore them unless I was going to school or town-I religiously kept them clean by using an old toothbrush and a soft rag. Taking care of things-is something me and the brothers have in common. I think it's a running joke or maybe a source of pride on which one of us has the oldest pair of Nikes in our closet today-not just any old pair-but ones that are in mint condition-ones we've had longer than we've had children. Steve's-white leather with black stripes-mine-brown hightops with turquoise stripes-Paul's-white with blue stripes.
Chatter and Chitter have proved to be different types of girls than I was. Any expensive tennis shoes they may have wore along the way came from yard sales, hand me downs, or clearance racks. I'm cheaper than Pap and Granny and can't fathom paying for the top brands-and the girls aren't interested in them anyway-maybe they inherited that trait from their Uncles.
The Deer Hunter took Chatter boot shopping yesterday-which is a good thing for her-I would have tried to talk her out of the expensive boots she came home with. Thinking of the money they spent made me cringe. But after seeing she loves them enough to wear them with her pjs-I'm reminded of my blue striped canvas Nike and how they made me feel. It also helps to know she paid for half the boots herself-something her Mama never did.
Ever have a favorite pair of shoes or boots?
Tipper