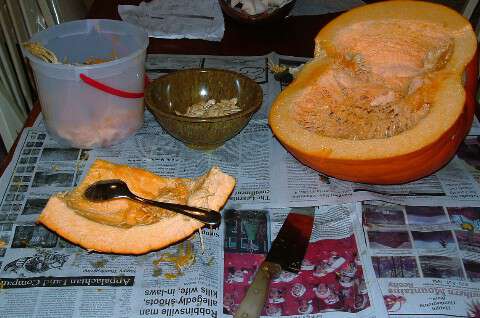 I'm taking a short intermission from corn recipes to put some pumpkin in the freezer. There are 2 recipes I make that call for pumpkin and I like to have it on hand-especially during the holidays.
First up-prepping the pumpkin makes a huge mess-or at least it does when I do it-so I usually spread out some newspaper to catch most of it. I rinse off the outside of the pumpkin before I start cutting.
Once I have it cut into pieces-I try for quarters but never succeed-I scrape out all the strings and seeds-making sure to save the seeds for roasting.
I used to cut the pumpkin up into small cubes and boil it-till I realized baking it was so much easier-no struggling to cut small pieces of hard pumpkin and peel them. I place the large pieces in a cookie tray or roasting pan pour some water (about a cup) around them and bake at 350 till they are done. It takes a while, after about 45 minutes-I start checking to see if they are soft yet.
Once the pumpkin has cooked-I scrape it from the shell into a bowl and mash it with a potato masher-you can also use a food processor if you want yours really smooth.
Next I freeze it in portions-since I typically only use pumpkin in 2 recipes I freeze it in those amounts.
While surfing around this morning I read where many folks rub the pieces of pumpkin with oil before baking them-I guess that prevents any browning that might occur. Also-many folks let the cooked pumpkin drain through a colander to get all the liquid out before freezing.
To roast the seeds-wash the gunk off of them-dry on paper towels-place them on an oiled/buttered cookie sheet and stir to coat-roast at 350 for 10 minutes or until lightly browned. Before roasting you can sprinkle them with salt and/or any other spice you like. Store in an airtight container.
The 2 recipes I use pumpkin for are Granny's Pumpkin Pie and The Deer Hunter's favorite-Pumpkin Roll. What about you-make anything with pumpkin in it?
Tipper