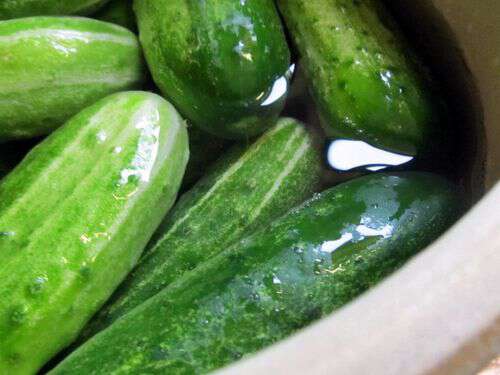 Today is the final day of the Blind Pig and The Acorn Pickle Along. Finally, we get to put those cucumbers in a jar and admire our hard work.
Drain the syrup into a large stock pot and bring to a boil.
Discard cinnamon sticks-don't worry about the other spices they can go right in the jars along with the cucumbers.
Place cucumbers in a large bowl or something handy to carry them in.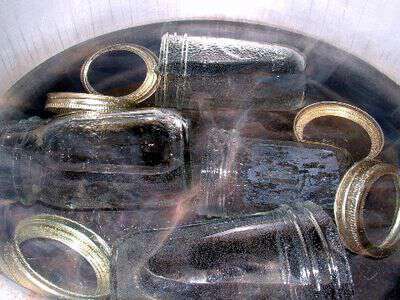 While the syrup is heating start sterilizing your jars and rings. Some folks do this in the oven or their dishwasher. Others, like me, sterilize in a pot of boiling water.
I keep a pot of hot water simmering along on the back of the stove. I get a jar when I need one and replace it with a clean one.
The JCCFS has a handy dandy sterilizer in their awesome kitchen-it makes canning anything a breeze!
I like to use pint jars for these pickles but any size jar will work just fine.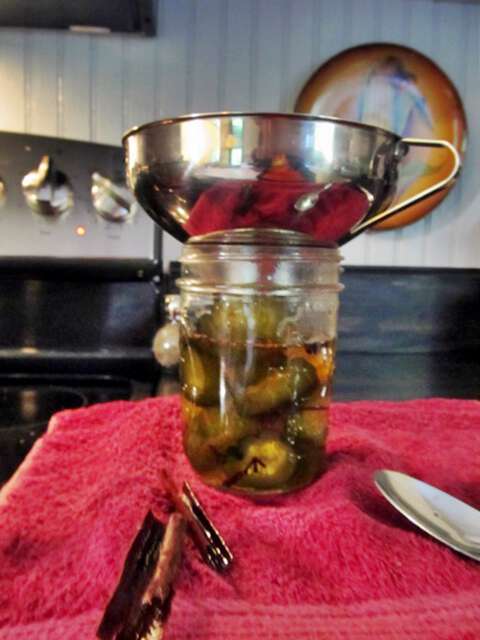 After the jars are sterilized and the syrup is boiling, pack cucumbers into hot jars.
Ladle hot syrup in the jars leaving 1/2 inch of head space.
Place a lid on the jar and screw the ring on tightly.
We place a towel on the counter or table, then set each finished jar on it. We cover the jars with a another towel to help hold the heat in-this aides in sealing the jar.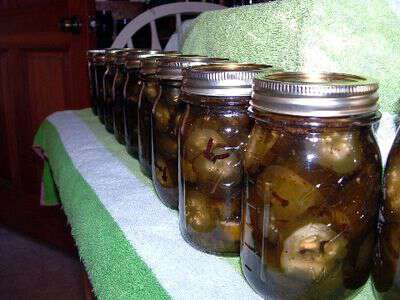 The method I just described to you is called the open kettle method of canning. Canning books and experts will tell you it is dangerous. We feel comfortable canning the pickles this way because we always have as have our parents and grandparents.
If you'd feel better going the water bath route-by all means do so!! Water bath the jars of pickles for 5 to 10 minutes.
After you set your jars aside to cool you'll begin to hear the jars 'pop' as they seal. I usually leave mine sitting overnight-making sure each jar has sealed the following day. I store the pickles in my basement-and they keep very well. If you have a jar that doesn't seal put it in the refrigerator and eat it first.
If today is a super busy day and you wish you didn't have to can the pickles-just repeat the step from yesterday (boiling the syrup and pouring it back on the cucumbers in the crock) and can them tomorrow.
I'm sending a big THANK YOU to everyone who participated in the Pickle Along. Please let me know what you think about the 14 Day Pickles. They add the perfect sweet crunch to potato salad and tuna salad and chicken salad and soup beans and…you get the point they are really tasty!
Tipper
p.s. Questions? Leave me a comment or email me at [email protected]