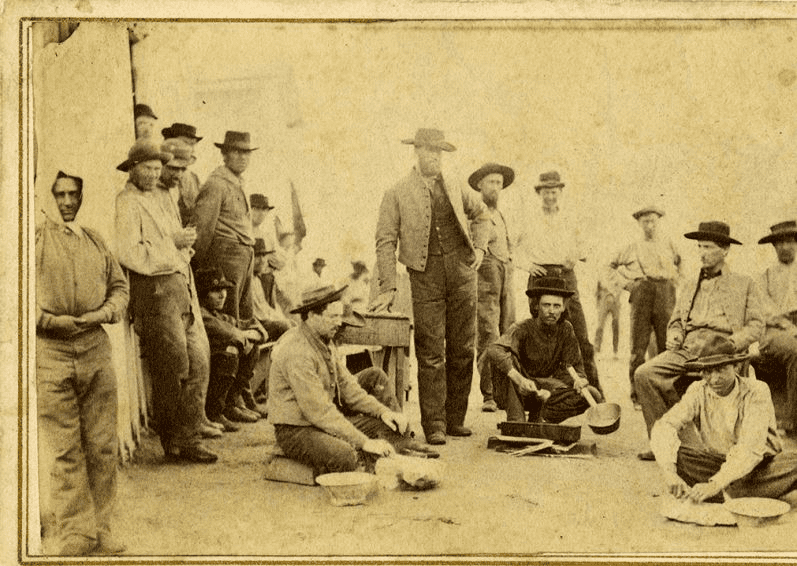 Rock Island Prison – Photo from the Kentucky Historical Society
From the JCCFS Archives – Interview conducted by Fred O. Scroggs in 1926.
———————–
Talk With Wm. Waldroup. Civil War Vet: 11/23/26
*Served under Gen. Polk and Capt. Irish Bill Moore. Was with army fighting around Chattanooga. Got cut off from army and came home with others to Brasstown. Yankees came in and captured him together with several others. Took them to Rock Island Prison in Illinois, where he remained eighteen months, or until the close of the war.
"How did they get you to prison? On the train?
"No! Drove us! We marched all the way. My heels was skinned all over where they rode the horses against us a-trying to rush us on."
"Where was Rock Island Prison?"
"Right across the river from the prison was Davenport, Iowa, a dirty looking, smoky town.
"How long did you stay in prison?"
"Eighteen months, and come out as pore as a black snake. We had a awful hard time. I worked all day for a small piece of tobacco lots of times. I believe I would a starved but I made rings and shell birds to sell. My mother sent me some files and I filed out birds out of mussel shells. One day the Colonel come in. Everybody wanted to sell him something. I followed him to the gate and asked him to buy some shell birds to take home and show what a rebel could do. He looked at them and paid me two dollars for two of them."
"On our way to the prison we camped one night at Tillico Plains. That was the night John Mitchell Davidson was killed, and I want you to know I kept quiet. Thought my time might come next. Twelve men shot him. I seen it."
"Did they have a trial?"
"They had some kind of trial. It was a sham thing. They was going to kill coot Ray too. He was a gorilla. He suspicioned something and come to me, and asked me to walk to the guard line with him. When we got there he broke to run, busted the river open and got away."
"We had a awful time in the prison. They eat every dog they could get hold of. I seen'em eat rats. I never eat any, though. They would set at a rat hole for hours with a gig ready to kill them when they came out. And when they would kill one, they stewed him right then. If I got too hungry I would trade one of my shell birds to a prisoner for a nickel and get me a loaf of bread. There was four hundred had bone scurvey at one time. And they died by the hundreds."
"One day I had grubbed up stumps all day and they failed to give me my tobacco. I decided I wouldn't work any more if they didn't give me my tobacco. So the next day, when they ordered us out, I wouldn't come. They shot at me and I run into the wash room and jumped into a vat of water and was there throwing water up over my head. Just fighting the water. They run in and asked where I went and a man told them I went through a back door. Then I went and crawled in my bunk. I just wouldn't work without they give me my tobacco."
"We dug us a tunnel under the fence one night with a old ash pan. They was 8 of us going to leave next day after they went to work, but the others got too fast and all went out at break of day, and got caught."
"Why didn't you go with them?"
"They got too fast. I heard shooting at day-light and knowed they had played the dickens. They cought one on the island, and the other six swum the river and went to a farm. They asked the farmer if he would hide them. He said "Yes." He told them to go in the smoke house, and then he locked the door and reported it to Rock Island. Then they come and got'em and crapt their coat tails off and pot balls and chains on 'em."
"The way they had of punishing us, they would tie a fellow's thumbs up to something just as high as he could reach and let him stand for two hours. I'd ruther a bin shot any time. I've seen 'em faint an' fall down an' jist hang there."
"You know, we all got weak. They never give us nothing to eat but great, big, old soup bones with a little water with them, and salt meat. That's why they took bone scurvey and died. We got so weak we couldn't hardly walk, and we was as ill as old sore tailed cats."
"Did you have any fights in the prison?"
"Lots of 'em."
"What was the penalty for fighting?"
"Nothing, they didn't care much."
"How did you get out of the prison?"
"They wouldn't let us out 'till we took the oath. I wouldn't take it for a long time, but I seen they wouldn't never let us out and I was going to starve to death. So I took it, and they give me a ticket to Knoxville, Tenn. I come on the train then to Sweetwater, Tenn. and walked home. They said it was dangerous to come through but I did."
"I suppose you were very weak?"
"Weak! Lord-a-Mighty! I saw men so weak they reeled with their blankets as they walked. All the fresh meat they had was a dog occasionally and some of them big wharf rats. Why, they was eighteen hundred died while I was there, -four hundred with bone scurvey. They fed us on pursley, too. You know what pursley is,–the stuff we give our hogs some times. Looked like redworms when it was cooked. Lots of them took the oath long time before I did, to git out. Twenty eight hundred joined the navy to git out."
Fred O. 11/23/26
WM (Bill ) Waldroup
———————–
Tipper