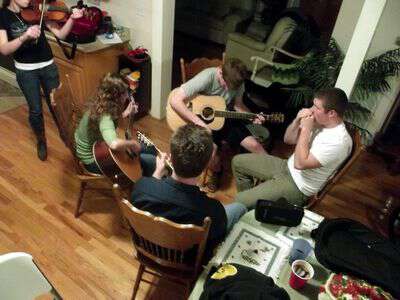 Sometimes there are houses other than our own, other than our parents, grandparents, or family members that feel like home too.
There's a home just down the road a ways that feels like that to me. It's on the next side road after ours going towards Brasstown, only it's on the opposite side of the main road.
I was in 5th grade and Bev was in 3rd grade when we first met each other-drawn together after her family started going to our church. Our parents were already friends and through the years Bev and I have managed to stay best friends and because of that our families have been woven seamlessly together even though were not really family.
Back in the day, there was many an after Sunday night church or Saturday night jam session at Bev's house. Most of us kids weren't interested in the music we stayed busy playing in the back bedrooms, only running back and forth to the kitchen when we wanted something to eat or drink.
Last night I sat in that same house and listened to some good music made by the next generation from me and Bev. Somehow I felt like we'd come full circle and most of all I still felt like I was at home in the house down the road just a ways.
Tipper