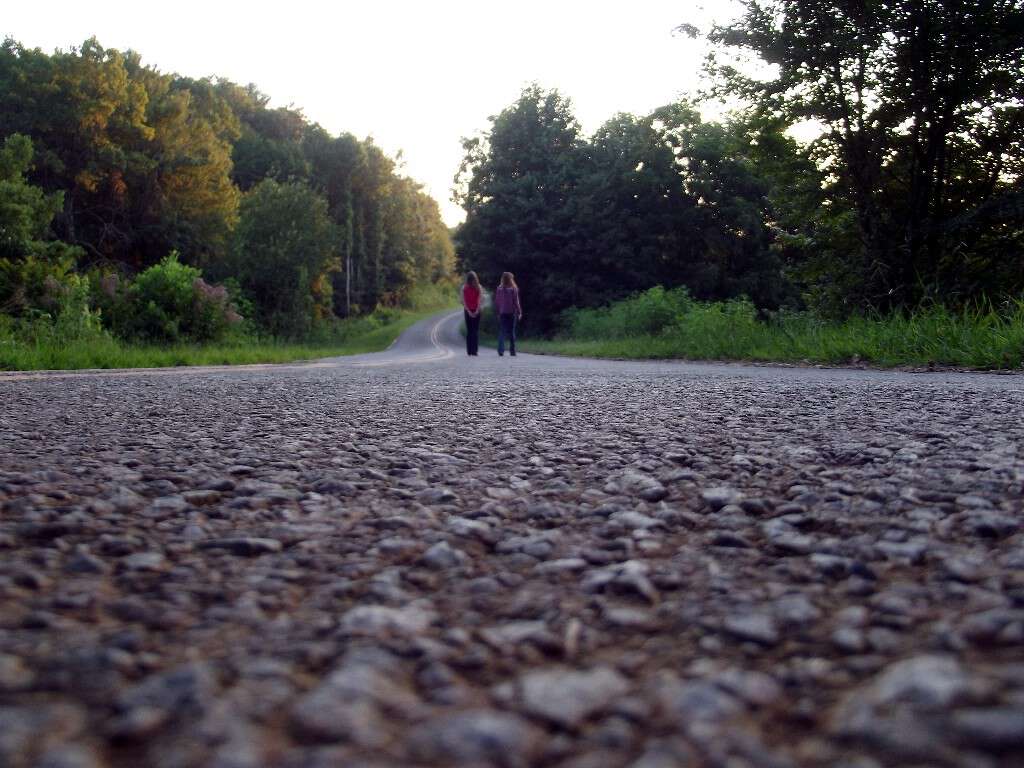 Since I first started the Blind Pig, I've asked Chatter and Chitter to pose for all sorts of photos. They've done everything from standing on tables to pretending to count potatoes.
I was thinking of the old saying yesterday-the one about giving someone down the road. As we came home late in the evening I asked the girls if they'd get out and let me take their picture walking down the road. They both started whining about me asking them to walk in the middle of the road.
Now we live on a pretty deserted side road-it isn't like its a thoroughfare. Once they started complaining I said I'd go up the other fork of our road where almost no one lives (its a deserted development that never made it before the bust).
Oh the horror. They saw a dump truck and a dozer parked in a field. Chitter swore she saw them that very day go by her school. I guess that meant bad news cause Chatter immediately locked all our car doors and told me she was not getting out and her sister wasn't either! I turned the car around and fussed that we were less than a mile from the house and they didn't have nothing to be afraid of.
Once we got back on our fork of the road they finally complied and I snapped a few pictures with both of them screaming about how I was endangering their very lives all for a photo.
Kinda funny-I was looking for a photo to go with my old saying-and we actually ended up acting it out. My girls give me down the road for asking them to do something they deemed dangerous and I give my girls down the road for being whiners. Thankfully, our quarreling was forgotten as soon as we pulled into the garage.
In a nutshell giving somebody down the road is the same as telling them off or blessing them out. Is the saying 'give him/her down the road' common in your area?
Tipper
Appalachia Through My Eyes – A series of photographs from my life in Southern Appalachia.