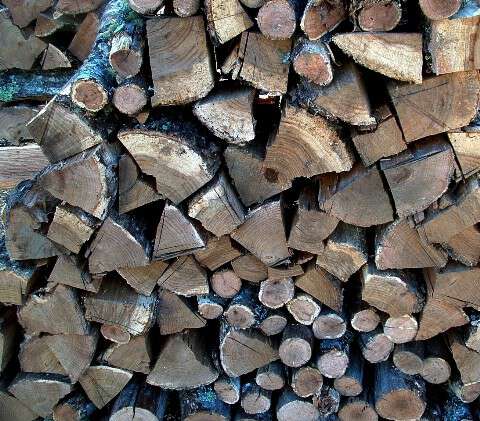 Firewood by Keith Jones
With central heating or even today's highly-efficient wood heaters, few people now appreciate the sheer volume of wood it took to keep a pioneer mountain household in operation, and the often-backbreaking labor needed to procure it. My granddad Dyer's mountain farm in Choestoe district of Union County, Georgia, had an open fireplace in the living room, an upright wood heater in the large "new" bedroom he added to his original house, and a hybrid wood-burning stove in the kitchen. The stove had two eyes that worked off electricity, similar to today's hot plate freestanding eyes, but Granddad never cooked on them. He left that to the kids, and continued to cook on his old reliable iron cooktop and oven.
Granddad's farm was a bit over 150 acres, and about a third or half of it was in timber. I realize now that the natural timber growth on this tract of land was roughly equal to, or slightly in excess of the amount of wood burned to keep the house warm, food cooked, and the farm running. So he was practicing sustainable growth before the term was invented.
I first became aware of how much wood it took to supply these three heat sources as a small child, visiting at Granddad's with the uncle and aunts who were about my own age. Blueford, one of two older uncles, was helping cut, split, and stack firewood. I was just large enough to carry one or two sticks of wood and place them within easy reach of the fireplace. I remember how you'd stand on icy winter nights with your back to the fire while your face froze, then turn around and warm your front while your back froze. Sometimes we'd put some popcorn in a little wire basket on a stick and pop it over the wood coals. No microwave popcorn could ever taste as good as that "smoked" variety.
Before long, I was large enough to begin helping cut wood myself. Usually my Uncle Troy, a year younger than me, and I would have this assignment. Granddad, Uncle Blueford, or Uncle Gene (the other older uncle) would have taken the tractor up into the woods after it was cool enough for the sap to have come down. They'd cut several oaks or hickories, and a pine or two, then drag the trees down to the area where we processed them. Side limbs would have been trimmed off to facilitate dragging the main trunk, but sometimes limbs that were parallel to the main trunk or a fork would be left in place. Those limbs that were large enough to provide firewood for the kitchen stove, heater, or kindling for the fireplace were by no means left in the woods. They were cut to length, gathered up into a wagon, and brought to be stacked onto the wood piles that graced the slight hill to the south of Granddad's homeplace.
Once the trees had been drug from the woods to the woodlot, Troy and I would begin wrestling the logs up onto the pivoting shelf attached to the circular saw. This contraption consisted of a circular saw about 30" to 40" in diameter, set into a metal frame, with a large flat pulley wheel on the other end of the shaft. The pivoting shelf allowed the logs to be shoved over against the cutting saw to be cut to length. I think we sometimes cut logs as much as 18-20" in diameter on this machine. The power was supplied by a rubber belt similar to a conveyor belt that was driven by an industrial 220-volt motor Granddad had scrounged somewhere. The motor had its own little tin-roofed shelter to keep off the rain. To the best of my recollection, that same belt was used to transfer power from the back wheel of an idling jacked-up Chevy pickup truck to the old cane grinder that had formerly been driven by mule or ox-power when sorghum syrup was being produced.
People today would probably be charged with child endangerment if they let 12 or 13-year-old boys handle the circular saw like Troy and I did, but we thought nothing of it, except warning each other to be careful. Logs were cut into three different lengths, depending on their future use. 24" length logs, usually the biggest diameters, were destined for the open fireplace after splitting and seasoning. Logs for the heater were somewhat shorter. Smallest of all were the fat lighter pine used for kindling and the kitchen stove. Sometimes old corncobs were used in kitchen stoves and small heaters, but this is something I remember from other relatives' homes, not Granddad's.
After the logs were cut to length, or if additional help was available while that was being done, most of the wood had to be split at least once. The larger "drums" of wood had to be split into four to six pieces of firewood. This was accomplished with either an ax, or a wedge and sledge. I really hated to try to split green wood, since sometimes it simply refused to split. Wood from tree forks is also notoriously hard to split properly. But there's nothing like the satisfying "chunk" of a log splitting perfectly at the first blow of the ax.
Hardwoods were the main fuel for the fireplace and heater. They produced a lot of ash, which would be processed by draining water through them to yield lye, to be combined with leftover cooking fat to produce lye soap. Pine tended to produce less ash, but more tar and creosote buildup in stovepipes and chimneys. The most excited I ever saw my grandfather was when the main chimney caught on fire with a huge roar. He was right to be agitated, since many house fires began with just such a scenario. In the attic, where we went to check if the fire was endangering the house or not, you could see the roaring flames through cracks in the mud chinking. The next summer after this fire, Granddad tore down his old red-clay-mud chinked chimney, and had his stepson Lloyd to rebuild the chimney with the same rocks, but with modern mortar as chinking. Lloyd was well-known in the community for his ability to construct chimneys that "drew" well and didn't smoke up the house. That chimney lasted as long as the house did.
Syrup making was a main cash-producer on the Dyer farm. So limbs that other folks would have cut up into stovewood, at Granddad's were left longer—about 8 or so feet in length—so that they could be fed into the firebox under the evaporator pan at the syrup mill. Troy and I again did the honors, keeping the fire stoked and at just the right temperature, at Granddad's or Blueford's direction. (Uncle Gene usually was tending his own syrup mill during my growing-up years.)
In addition to the wood used to heat the house and make syrup, firewood was needed for cooking all year long. The fireplace usually had at least a small fire in it for nine or ten months a year, and the kitchen stove had a fire every single day. When it was time to cure hams or smoke other meats, fuel was needed for the smokehouse, too. And if a farmer dabbled in blacksmith work, he needed a supply of charcoal, which was produced by stacking large amounts of logs into a mound shape, covering the whole thing with dirt except for a tiny chimney hole, and burning a small fire in the middle until all the wood turned to charcoal. This was such a specialized skill that not every farmer tried it. I never saw it done, but heard of families who made this their specialty, just as others ran sawmills or gristmills, or 'tended store' in addition to their farming.
All in all, Granddad's farm consumed several full cords of wood each year. Today, people use chainsaws and hydraulic wood splitters. We had the circular saw, a large step up from the crosscut saws my Dad and Granddad had to use many years ago. But even today, producing firewood is an arduous task. So when the fellow comes with the pickup truck load of split, seasoned oak and hickory, don't begrudge him the $50 or $75 or even $100. And as you enjoy the warmth from your Buck stove or Warm Morning, give a thought or two to how that wood came to be there for you.
——
Hope you enjoyed Keith's guest post-I know I did.
Tipper