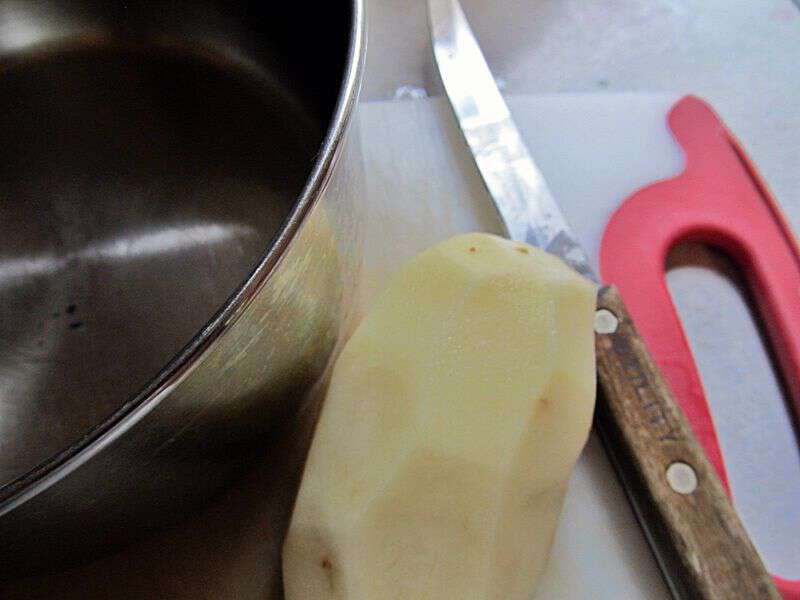 Like most everyone else in Appalachia potatoes, or more commonly called taters, make up a large part of our diet at the Blind Pig house. It would be hard for me to say which way I like taters cooked the best.
Fried taters would be at the top of my list, but I've never been able to get mine to taste as good as Pap's. I'm telling you he could flat make a pan of fried taters, they were even good cold. He said most people messed with the taters too much as they cooked, that's probably what I'm guilty of doing when I fry taters. Pap said Bergan Moore made the best fried taters he ever tasted. He said Bergan only flipped them once.
I like a good baked potato. They're the easiest way to fix potatoes and if you add enough toppings you can make an entire meal out of one.
I'm a french fry lover too, I think Granny makes the best homemade fries. She ought to be good at making them cause I know she's served up a tremendous amount of french fries over the years for her family.
Easier than french fries are Granny's oven potato chips. If I can't think of anything else I want to eat, I make me some of them. You can go here to read more about Granny's oven potato chips if you missed that post.
Mashed potatoes go best with meatloaf, roast, and deer meat. And I happen to like my own mashed potatoes more than anyone else's so that's a good thing.
Scalloped potatoes are good and so are cheesy potatoes.
As much as I love fried taters, right up there with them would be soupy taters. Granny Gazzie made the best soupy taters ever! Paul always said hers were shaped like little boats so that's how I think of them too. Granny's aren't shaped like boats, but they are good and so are mine. Our soupy taters are really just stewed potatoes with a little butter and seasonings to taste but we've always called them soupy taters. Some folks add other things to their soupy taters like flour or onions or both. You can read more about soupy taters on this website.  (Thank you for the link Gregory!)
I looked in my Dictionary of Smoky Mountain English to see if it had anything to say about soupy taters and found this interesting recipe:
tater noodling noun See 1997 citation.
1961 Seeman Arms of Mt 52 We're havin' 'tater noodlins. 1997 Montgomery Coll. = balls of corn bread cooked in potato and ham broth (Andrews).
Dictionary of Smoky Mountain English
————-
I've never had tater noodlins, but now I want some, and I wonder if anyone in Andrews is still making them?
Tipper