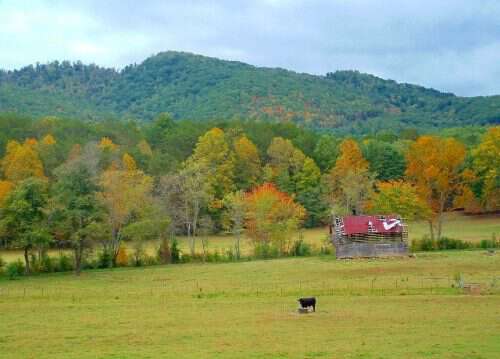 This week's Pickin' & Grinnin' In The Kitchen Spot features The Dream Of The Miner's Child. A song I grew up hearing-and assuming it was written by someone from the Coal Mines of Appalachia. Actually it's an old English Ballad. The song never caught on in England-but once it was introduced to the coal mining camps in the USA it spread like wild fire.
The song tells the story of a little girl, whose dream foretells a mining accident. As her father is leaving for the mines, she cries out for him to stay home-because dreams have so often come true.
I've never had a dream that predicted the future-but two foretelling dreams come to mind-both about my Papaw.
The first:
Throughout my Papaw's long illness he wanted to be at home. We took turns staying with him doing what we could to comfort him. Several times during the months preceding his death we thought his departure was imminent-and the whole family gathered to his bedside-but somehow he would last beyond what we thought were his final minutes.
He died one morning at about 10:30-Pap's Sister, one of his Brothers, a niece, and I were there-everyone else was at work or school. Pap's younger brother worked close by and arrived quickly. Pap drove an oil truck-who knew where in our large county he was. I couldn't bear thinking that we were gathered together-but he would get the news of his father's death from someone working in a gas station-however,that isn't exactly what happened. A few days after Papaw's funeral Pap shared his experience with us.
Several nights before Papaw died, Pap dreamed he could see his father in a gulf of water-kind of like there were sides with the gulf between them. Papaw was in the water with his arms reached high into the air. The morning Papaw died, Pap was working in the lower part of our county in an area called Hiawassee Dam. Pap said as he drove across the dam, seeing the water, he realized that was his dream and his father had passed away-when Pap arrived at the next station-they confirmed it for him. Pap said even though the events were strange-the dream was a comfort to him.
The second dream occurred after Papaw had been dead many years:
Lee called Pap one evening, he wanted to tell Pap about a dream he had-a dream he couldn't get off his mind. Lee is a local preacher and has been a friend of our family as long as I can remember.
In his dream-he was preaching-standing on the front steps of a white farm house that he could not recall being at before. The old house was surrounded by corn fields and the yard was full of people listening to his sermon. Lee noticed someone coming across one of the fields at a fast pace-it was Papaw. Lee said Papaw walked straight through the crowd and came right up on the steps and said "Lee there's a storm coming and it's at the second railroad trestle" then Papaw turned and went back the way he had come.
Lee wanted Pap to help him discern if the dream meant anything-like the profound dreams in the Bible. Lee said he just couldn't quit thinking of the dream-couldn't quit seeing Papaw's piercing eyes looking into his. At the time-I thought of all kinds of things that might fit the "coming storm". Now, looking back, the storm that came to our family was one I could never have foreseen.
Listen to this great old song-and see if it jogs your memory about any "foretelling dreams" you've had or know about.
Hope you enjoyed the Dream of the Miner's Child-and don't forget to leave me a comment about your dreams.
Tipper