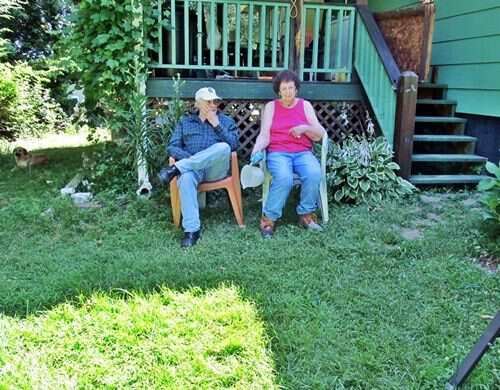 Pap and Granny sitting in their shady backyard of an evening
evening adverb The afternoon, the time between the middle of the day, which was usu marked by dinner, and dusk.
1913 Kephart Our Sthn High 296 Evening, in the mountains, begins at noon instead of at sunset. 1931 Goodrich Mt Homespun 57 Early in the "evening" (a part of the day that begins at 12 P.M.), Martha prepared to start, for the days were shortening and she must be home by sundown. 1939 Hall Coll. Cades Cove TN the middle of the evenin' is about three o'clock. 1943 Hannum Mt People 131 [F]or southern mountain people "evening" begins at twelve o'clock noon. For them the morning and the evening are the day, as it is recounted in Genesis of a world still in the making. 1956 Chapman Folk Retain If you ask him, "Would you like to ride into town this evening?" he will expect you to go sometime between noon and sundown for to him those are the evening hours; after that, it is "night." The word "afternoon" is practically unknown in the mountain speech. 1972-73 Pederson et al. LAGS (Cocke Co TN, Sevier Co TN). 1973 GSMNP-78:21 At twelve we would arrange our benches and have a spelling bee all Friday evening. 1984 Gibson Remembering 1 We were small so about three o'clock in the evening Mama would send us a snack to the field by one of the children that wasn't big enough to work much as yet.
Dictionary of Smoky Mountain English
—–
There are still a few folks who refer to the time between noon and and dusk as evening. To a lot of folks evening means from about 5:00 p.m. to 8:00 p.m or so. We consider 6:00 p.m. and on to be night much like the example from 1956 used in the dictionary.
Tipper
Subscribe for FREE and get a daily dose of Appalachia in your inbox