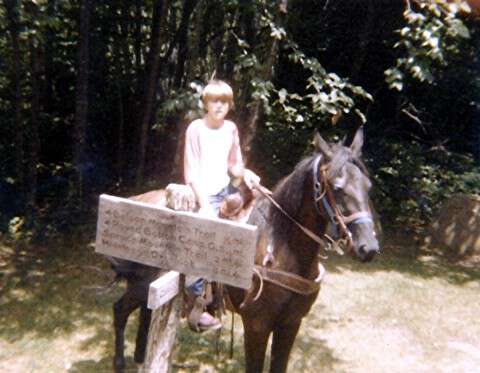 Early 80's Cataloochee
Ever heard of The Wild Man of Cataloochee? His real name was Arley Phillips. Arley was a legend in Haywood County, NC and beyond. He died almost 2 weeks ago. He was 77 years old.
Quote from article featured in The Mountaineer, written by Vicki Hyatt:
"Phillips lived in the White Oak community under conditions seldom found in today's world. His  primitive home had no running water or electricity and is unchanged — except for wear and tear — from the time it became the family home. The Phillips were one of many forced to relocate when the Great Smoky Mountains National Park was formed. There is no insulation in the house and the construction of yesteryear allows plenty of places for outside air to circulate in both winter and summer."  
In years past, Arley frequented the Cataloochee area of the park. As folks saw him slip through the woods or look for food in the dumpsters they nicknamed him The Wild Man of Cataloochee.
The Deer Hunter and Papaw Tony spent many days and nights in the Cataloochee section of the park. It was their favorite place for camping, horse riding, and fishing. The Deer Hunter was always on the look out for The Wild Man. Over the years he saw him several times.
Once The Deer Hunter was trout fishing and as he looked up The Wild Man crossed the river just a few feet ahead of him, he never spoke just looked at The Deer Hunter and kept going.
Arley's nephew, neighbors and a few other folks befriended him, often leaving him food and other items he needed as well as checking on him every once in a while to make sure he was o.k.

By the time I met The Deer Hunter and Papaw Tony, their days of camping at Cataloochee were over. You had to reserve a place to camp-I suppose you still do. One day Papaw got a phone call that he wouldn't be able to camp the coming weekend even though he'd had it reserved for quite some time. Seems someone more influential than Papaw and his horse riding buddies had rented the entire park. Papaw decided a little complaining was necessary, but it was to no avail. Then he decided he'd rent the entire park himself, however turned out he wasn't influential enough to do that either. After Papaw contacted a congressman about the issue the welcome mat was never put out for Papaw and The Deer Hunter again-actually that's an understatement. It was more like: come if you want to and we'll make sure we find every fraction of the law you violate no matter how small it is. During one of the last trips they made to Cataloochee there were 21 flat tires among their group of horse riders.

Years ago The Deer Hunter told me about The Wild Man and I was intrigued from the beginning, wondering: what did he eat? did he talk to anyone? did he have a house? did he get lonely?
Seems kinda sad that all my questions were answered through the death of Arley Phillips.

Ever heard of The Wild Man of Cataloochee?