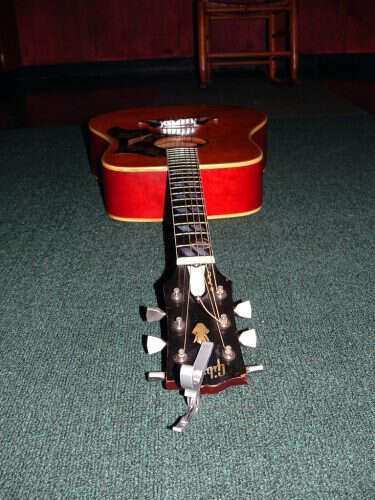 I suppose in the array of musical instruments traditionally used in Appalachia-I'm most partial to the guitar. I'm positive it's cause I was raised by a guitar picker-Pap. He was playing the guitar even before I was born-actually even before him and Granny met.
Del McCoury came out with a song a few years back that struck a chord with me-Nashville Cats. The gist of the song-there's lots of guitar pickers in Nashville. When I was growing up-I totally assumed everyone had pickin' and grinnin' going on in their kitchen too-you know that every house had a resident guitar picker sitting on the couch playing the same song over and over while you tried to watch your favorite tv show. The guitar pickers weren't just relegated to Pap's house-they morphed out into the other houses of my family too. If I was a betting woman-I'd bet if you took a count of the guitars residing in the houses in my mountain holler today-you'd come close to 20. There's 3 in my house alone.
After I was grown-one of my cousins remarked to me-"you know it's like no matter what happens around here somebody's got to get the guitar and sing-I mean it could come a tornado and somebody would say Did you bring your guitar?" He was right-that's how common making music is to all of us-I can't imagine not having a few guitar pickers around picking the background music to my life.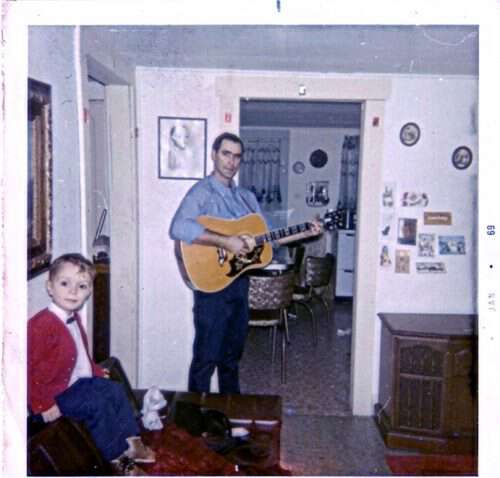 Of course growing up with guitar pickers galore-there was (and is) often spirited debate on the subject of who is the best guitar picker around. People like Chet Atkins, David Grier, and Tony Rice are always at the top of the list no matter who's doing the arguing. Several months ago I contacted David Grier about interviewing him for my Spotlight on Music in Appalachia-even after all these month's I still can't believe he said yes-still can't believe I talked to him on the phone. All the Blind Pig gang are huge fans of his-those of you have been with me from the start may remember Guitar Man tackling 2 of David's original songs-Porkchops and Applesauce and Engagement Waltz.
Interview with David Grier:
Do you think traditional music's popularity is as high as it's always been?
I believe traditional music will always be around. I have no fear that it's going away-ever.
Do you make any efforts to ensure traditional music does stick around?
No, I really don't worry about keeping my music traditional-cause there are so many others already playing traditional, bluegrass, and old time music that I play what ever I want too.
As you travel around the country performing do you see the younger generation taking part in traditional music?
Yes, there are tons of talented kids making traditional music out there who have amazing talents.
Why do you think the guitar seems to be the most popular instrument played in traditional/bluegrass music?
The guitar is versatile by nature. The sounds a guitar makes fits whether you're playing bluegrass, jazz, the blues or rock. Where as something like the banjo fits perfectly for old time string bands.
Is there anything you'd like to share with my readers or your fans?
Yes I'd like to tell them about my 2 latest cds. Evocative has 10 of my original songs on it. And Live At The Linda a solo cd was recorded live in Albany New York they can purchase both of them on my website DavidGrier.com.
Not only did David Grier talk to me about music-he also sent me 2 of his cds to giveaway-the 2 he mentioned during the interview. Evocative-so perfectly named-cause it is evocative of all sorts of music-all with David's superb picking influencing the flow. Hard for me to name a favorite-but I love Road to Hope, Two Turns Home, As Easy As Falling Off A Log, and Four Dogs Jogging-see I told you it was hard to choose a favorite.
Live At The Linda has outstanding music too. As a solo cd-you can hear every note of the song as David's amazing musical ability brings it to life. Since it was recorded live-it also has David talking to the audience about his music. I always like hearing the give and take between a performer and their audience-it gives you a peek into the performer as a person.
While listening to Live At The Linda-I found out I had something in common with David Grier. I knew-David came from a musical family-just like I did. But hearing him tell the audience about growing up with music being played around his house on a regular basis-about being at other people's houses where all the grown ups where inside pickin' and grinnin' while the kids ran wild outside-sounded exactly like my childhood memories (well except none of my pickers and singers were famous).
Hope you enjoyed my interview-jump over to David's website by clicking David Grier to find out more about his music and his up coming events.
If you'd like to win one of his cds-all you got to do is leave me a comment on this post-the giveaway closes on Thursday-June 17 2010.
Tipper