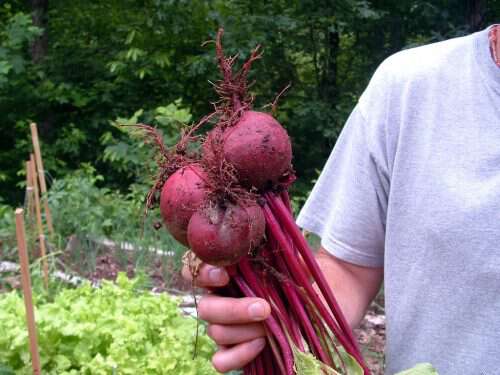 Thanks to the generosity of Hometown Seeds-this is the first year we've tried our hand at growing Beets. As you can see-we've had a huge success. Last week we got our first Beets from the garden. Not only had I never grew Beets before this year-I'd never cooked Beets either. Miss Cindy was here for a visit-so she showed me how she cooks them.
First she cuts off the tops and put them in water to wash. (who knew you can eat them just like you would spinach or any other type of greens)
Miss Cindy said since Beets can be hard to peel-she cooks them without peeling. Once the beets have cooked-she cuts off the top and bottom portion-then the rest of the peel just slips right off.
Once the Beets are peeled-you can slice them up and eat them. But since The Deer Hunter likes Pickled Beets-Miss Cindy pickled them.
She sliced them up and cut the slices into quarters. On the stove she brought some water, ground cinnamon, ground cloves, sugar and apple cider vinegar to a boil-then added in the cut up Beets.
Then she poured the mixture into a canning jar and placed it in the frig for a couple of hours.
For the Beet Greens-she washed them good-then cut them into pieces-including the stems; put them in a pot with a small amount of water and cooked them. I was pleasantly surprised to discover I really liked the Beet Greens-they tasted similar to Spinach.
Tipper