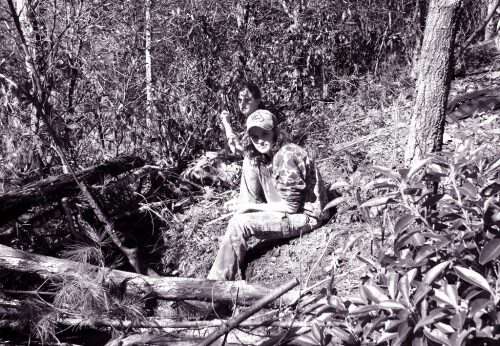 Time for this month's Appalachain Vocabulary Test-take it and see how you do.
Mourners bench
Mouth
Meanness
Mash
Mar up
Mourners bench-bench or seat placed at the altar of a church and used for calling out to God in need; symbolic for altar. "Let's all gather round the mourners bench and have a word of prayer for the coming revival."
Mouth-where a river/creek or hollow/cove opens into a larger area; a hunting dogs bark; to argue or fuss. "Ole Smokey had the best mouth you ever heard. Why when he struck you could hear him three hollers away."
Meanness-mischief, mischievous actions. "Last week somebody took a ball bat to all the mailboxes in Ranger. I reckon they did it for pure meanness."
Mash-to push down; fermented grain used in making moonshine. "I can't get the phone to work. I keep mashing the buttons but nothing happens."
Mar up-to get stuck. "Your going to have to go pull Mark out, he got his jeep marred up in the mud up on the mountain somewheres."
I'm familiar with all this months words-and use them on a regular basis. A few thoughts that come to mind about them:
I recall more than a few discussions about the mourners bench from my growing up years. Those who believed it was the only place to reach God vs. those who believe it wouldn't matter if you were on the roof top and called out to God-he would answer.
My Papaw Wade always had coon dogs. I can think of his dogs-their names-their personalities-and hear his voice talking about them and their 'mouths'.
I would say someone was full of meanness if they did something evil-but I'd also use the word to describe something as innocent as Chitter aggravating her sister.
Mash-is the most interesting word for me this month. I'm very interested to see if you use the word like I do. I use mash if I'm talking about pressing a button on the computer; if I'm talking about holding something down to glue or attach it; if I'm talking about pushing the kraut in a crock under the water with a plate. In other words I use it way more than I do the word push. I think the only way I use push-is when something or someone is pushed over. Like-"He pushed me and I pushed him back" or "by using the bulldozer, he pushed the whole pile of brush into the hole at once."
Hope you'll leave me a comment and tell me how you did on the test-and any thoughts you have about the words.
Tipper