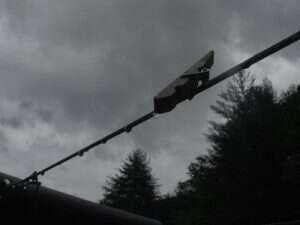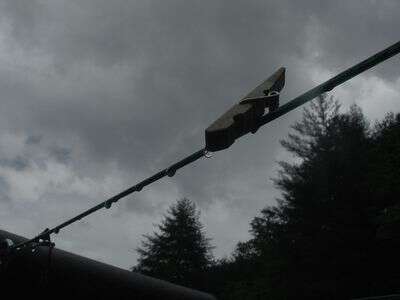 My recent post on Ruling Days inspired Ethelene Dyer Jones to research the issue of weather folklore a little deeper for her weekly newspaper column. Ethelene has graciously allowed me to republish her outstanding article today as a guest post here on the Blind Pig & the Acorn.
—————
Interesting Weather Lore written by Ethelene Dyer Jones
Today, with the weather channel easily available on television, and almost every newscast we hear interspersed with the latest information on the weather, we don't have to rely, as our ancestors did, on weather signs and folklore. Yet how very interesting are some of the signs for predicting weather. How scientific these are is a matter of speculation. But for those of us who grew up with a Daddy who "watched the signs," and was pretty accurate with what they revealed to him, we can believe these old-fashioned weather predictions were of much help in planning ahead to inclement weather, good times for planting to avoid frostbite to new crops, and to practice some of the habits of the animals and be better prepared for severe winters.
Just now we are in the "twelve days of Christmas," the time between December 25 and January 5 (the "new" and "old" Christmas). The kind of weather we receive on these twelve days is believed by many to forthtell the kind of weather we will have in the year ahead.  For example, since Sunday, December 25 had cold rain, January 2012 will have cold days and much rain. Let's see if this weather prediction comes to pass. Monday, December 26, was rather cold but sunny and fair. February, then, will bring sunshine and cold days. And beyond that I cannot go yet. But you might like to keep a "weather calendar" through January 5, write it down, and see how true to form the months of 2012 are to the predictive "twelve days of Christmas" as weather forecasts.
In much mountain and other folklore, these twelve days are called the "Ruling Days," as they are believed to rule the weather for the year ahead. Some general rules about these days: if it rains during the 12 days, it will be a wet year, and if it is windy on Christmas Day, the trees will bear much fruit. If it thunders during these days, much snow will come in winter. If it snows on Christmas night, the crops will do well. A clear, bright sun on Christmas day fortells a peaceful year and plenty. And if at Christmas ice hangs on the willow, clover will be ripe for cutting at Easter. And some of these predictions are in rhyme, the better to remember them: "If Christmas on a Sunday be, a windy winter we will see."  "As the hours of sun on Christmas Day, as many frosts will be in the month of May."
Many signs in nature are natural predictors of weather. I can't give you the origin of these, as most of them I heard my father talking about when I was a child. Others I've read in collections of mountain folklore and other sources. I share some of the most interesting with you here:
If berries and nuts are plentiful, a hard winter is ahead.
Wooly worms are natural weather predictors. In our area it's better to look for the "tiger moth" wooly worm (scientific name Pyrrhactia Isabella) even though wooly worms are widespread throughout the United States and are studied for their portents for upcoming weather. If the wooly worm's head is more black than colored, the coldest part of the winter will be in the early months of winter. The more black than brown on the wooly worm, and the wider the black stripe, the worse and longer the winter will be.
Just close observation of signs in nature foretell the weather, according to our ancestors.  Here are some:
A tough winter is ahead
…if cornhusks are thick and tight;
…if apple skins are tough;
…if squirrels' tails are bushy;
…if berries and nuts are plentiful;
…if bees build their nests high in trees;
…if bark on trees is thick (especially on the north side)
…if animals grow thick fur.
And mnemonic devices, especially in the form of rhymed couplets, are familiar in stating weather lore.  Consider:
Thunder in the fall, a cold winter withal.
Flowers abloom in late, late fall, A cold bad winter surely will call.
Fruit trees blooming out of season in fall, a cold hard winter is certain to call.
Thick ice in November to bear a duck, The rest of the winter will be slush and     muck.
Cobwebs spun upon the grass, Fair weather will surely come to pass.
When leaves fall early, fall and winter will be mild;
When leaves fall late, winter will be severe and wild.
If a cool August follows a hot July, it fortells a winter hard and dry.
If squirrels gather nuts in a flurry, Snows of winter will gather in a hurry.
Months are used to predict other months' weather, as:
A warm October, a cold February.
Much rain in October, much wind in December.
Full moon in October without a frost means no frost until November's full moon.
A warm November, a bad winter.
Lightning in January, snow in April.
To round out this old-time weather lore, let us close with these:
Snow on Christmas, Easter green;
Green on Christmas, Easter white.
Clear star-filled night on Christmas Eve will bring a yield of good crops in next year's harvest.
—————
I hope you enjoyed Ethelene's guest post about weather folklore as much as I did. Many readers commented they were going to keep a "ruling days" list to see if the 12 days do indeed foretell the weather month by month for the coming year. I'm trying to keep one too. Since today (Dec 28) was a cold windy day with a skiff of snow around the higher eleveations of NC I'm thinking April 2012 will be cold and snowy-as they say we shall see!
Leave Ethelene a comment and I'll make sure she reads it!
Tipper