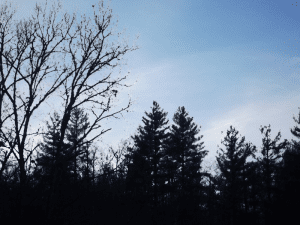 (view to the west from my front porch- looking and thinking of all you TN folks-on Christmas evening)
My Dictionary of Smoky Mountain English tells me this about Ruling Days:
The twelve days beginning on Christmas day, each one of which is said to govern the weather for one month of the following year. 1905 Miles Spirit of Mts 107 But he and Arth do not disagree about certain weather signs their mother had taught them when they were "shirt-tail boys," signs about Groundhog Day, for example, and the Ruling Days, the twelve days from the twenty-fifth of December to Old Christmas, each of which rules the weather of a month of the coming year.
My Christmas day started out at a chilly 35 degrees with a few-and I mean very few snow flurries and warmed to the upper 40s by late afternoon. So according to the ruling days-I guess that means the month of January will be chilly too?
Ever heard of Ruling Days?
Tipper
Appalachia Through My Eyes – A series of photographs from my life in Southern Appalachia.