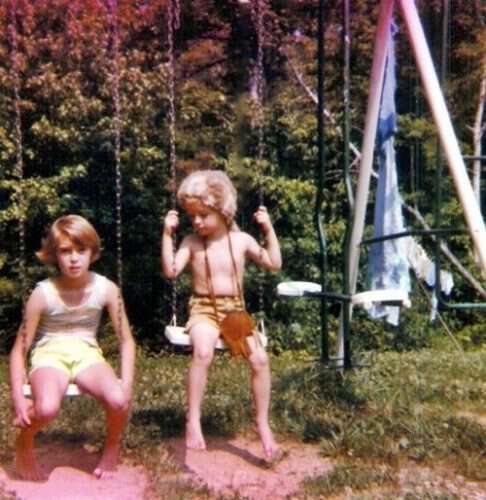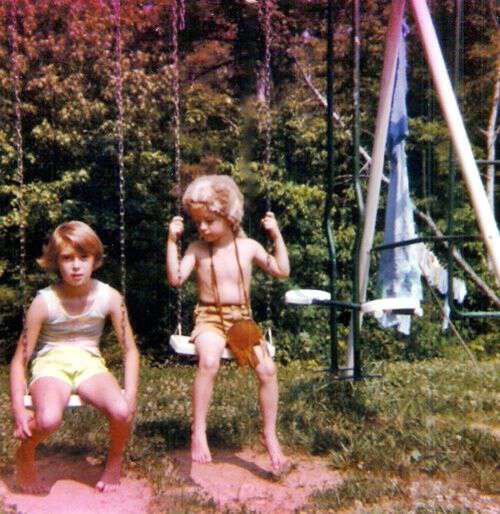 Tipper and Paul
I couldn't end the childhood games and songs without talking about swinging. I spent untold hours swinging as a child. When we first moved into the house Pap built he didn't have time to move my swing set from the little rented house. Every time he went back to get it, there was a little girl swinging on it and he couldn't stand to take it while she was there. Finally one day she wasn't there and I got my swing set moved to our new house.
We also had a rope swing Pap built in a dogwood tree in the backyard. Looking back I guess he built it for me. Steve would have been too tall to swing on it much and Paul too little. I swung on it until one day it broke leaving me on my back on the ground. I cried and cried and acted like I couldn't walk, I'm sure I was really a sight to behold. I remember Granny tied up my back with something and then put my big long winter coat on me. She said it would make my back all better and it did.
As we got older Paul and I would swing and make up pretend stories that we acted out. Our favorite was one where we gathered an imaginary team and competed against each other. Our teams were mostly filled with Major League Baseball players of the day like Ron Cey and Nolan Ryan.
Martins Creek School had great swings. The school swings were the old tall metal ones you used to find at all playgrounds. You could really go high on those swings and if you were really brave like some of the boys and a few of the girls you could flip over backwards and land on your feet as you flew high into the air. I never got brave enough to try it, but I loved to swing so high that the chains snapped and clanked as I came back down.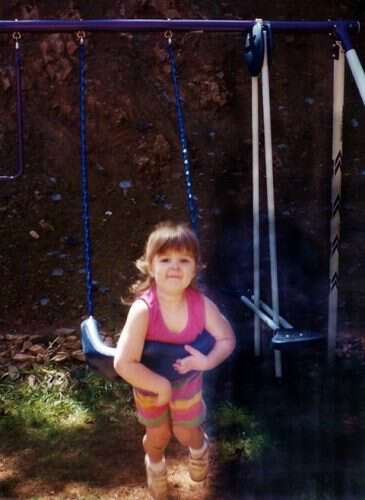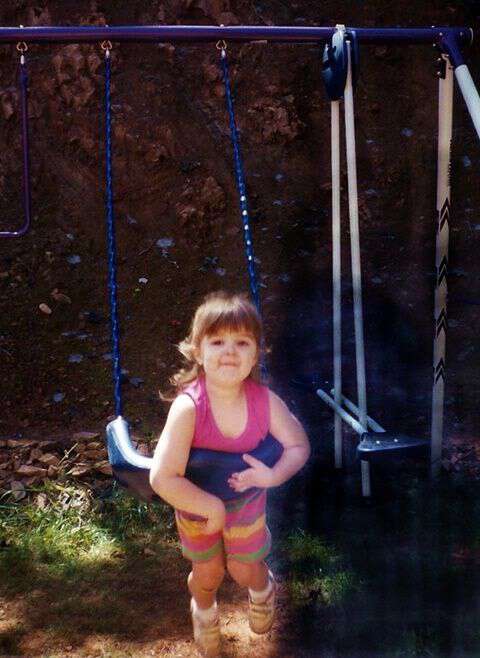 Chatter
The girls loved to swing too. The photo above shows Chatter on the first swing set they had. The seats of the swings were hard plastic and didn't mold themselves to the girls backsides so we had a terrible time of trying to teach them to swing with out sliding out of the seats. They finally came up with their own method of swinging. They laid on their bellies and pushed off and then pumped their legs backwards. It sort of worked 🙂 at least they had fun doing their own version till they finally figured out how to stay in the seat.
Tipper
Subscribe for FREE and get a daily dose of Appalachia in your inbox