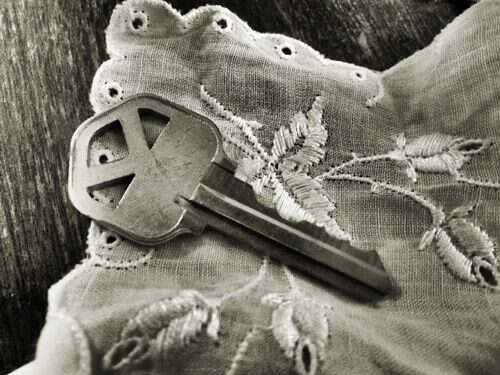 One of our favorite games to play when I was a young child was Hide The Key. As I look back its hard for me to believe we played the game so often and that it entertained us so well. We usually didn't have a real key to hide, but would use a piece of plastic or something small that was laying around handy.
Everyone would go out of the room, leaving one person behind to hide the key. We agreed the key had to be somewhere in that room. Once the key was hidden, the rest of the bunch could come back and start searching. As everyone looked for the key, the person who hid it would tell us if we were hot or cold. Hot meaning we were close to the key, cold meaning we were no where near it.
According to the Foxfire 6 Book the game was also called Hide The Thimble and Hiding A Needle In A Haystack. A variation of the game called for hiding a handkerchief. The game was called Lost My Handkerchief. During the game the person who hid the handkerchief would call out:
I lost my handkerchief yesterday
I found it today
All full of mud
And I threw it away.
Then everyone else would try to find the handkerchief.
Did you ever play hide the key or any of the other variations?
Tipper
*Sources Foxfire 6
Subscribe for FREE and get a daily dose of Appalachia in your inbox