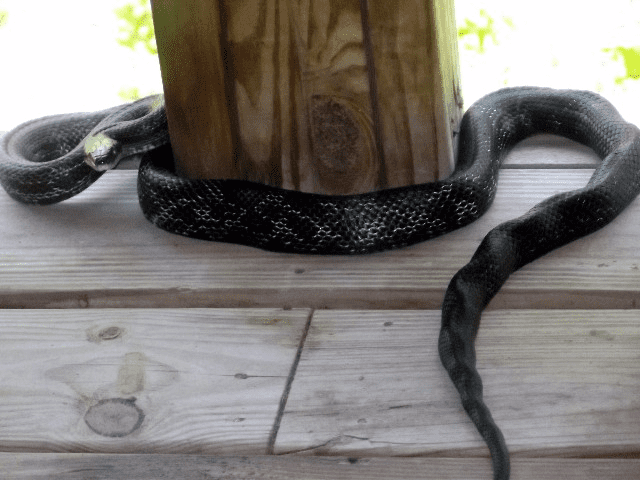 Last weekend Miss Cindy came over to visit, as she was leaving she found a snake on our front porch. We all ran out to see it and by then it had wedged itself between the stair runner and the wall. I said I bet it's after the baby birds. The Deer Hunter said it's just a King Snake leave it alone. Miss Cindy went on her way and we all went back the house.
A few hours later Chitter discovered the snake was indeed after the baby birds. A few sprays from the water hose sent the snake off the porch into the yard and over the bank.
I couldn't resist telling the girls "You better watch out it might be a hoop snake or a black racer."
As long as I can remember I've heard stories about hoop snakes and black racers.
The gist of the hoop snake stories: a black snake loops itself into a hoop and then goes rolling after whoever disturbed it. Some versions claim hoop snakes have stingers on their tails to sting you.
The gist of black racer stories: a black snake races or chases you once its disturbed. Every time I think about a black racer I see a field of tall lush green grass with a jet black snake slithering through it at break neck speed. (break neck speed: is that a phrase you ever use?)
Along with hoop snakes and black racers, Appalachia also has stories about joint snakes. Although the stories aren't as common, the gist behind them is a joint snake can break itself into pieces and then put itself back together again. I guess the breaking of joints is a defense mechanism of sorts.
Tipper