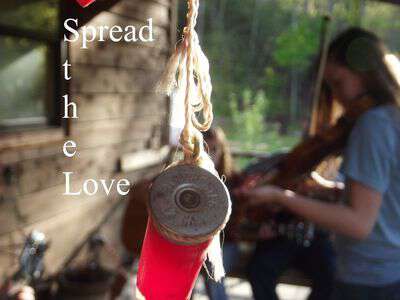 Time to Spread the Love for the month of April. I'm sending a great big THANK YOU to each person who took the time to comment during April-you truly do make the Blind Pig a better place to visit!
Janet, Just Jackie, Miss Cindy, Brenda Kay Ledford, Osagebluff Quilter, Warren, David Templeton, Martina, Glenda Beall, Fencepost, Rick's Whitetail Woods, B. Ruth, Vicki Lane, Eva Nell Mull Wike, Ph.D., Wanda, Lynn Legge, Pat in East TN, Jen, Sandra, Sheryl Paul, Kenneth M. Roper, Anastasia, Mike McLain, Nancy Simpson, Mamabug, Kat, Lonnie Dockery, Canned Quilter, Jim Casada, Don Casada, Charline, Bradley, Uncle Al, Teresa, Luann, Ethel, Melissa P Misplaced Southerner, Wanda Devers, Donna W, Janet Pressley, PinnacleCreek, Suzi Phillips, Debby Brown, RB, Lise, Mary Shipman, Shirla, Glynda, Sue Crane, Gary Powell, Ed Myers, Sassy, Baking Barb, Charlotte,Elizabeth K, Susie Swanson, Cee, Wayne Newton, NCMountainWoman, Tea4Too, Ron Banks, John Stonecypher, Tim Mc, Nancy M., Brenda 'Okie in Colorado, Carol Isler, Bill Burnett, Madge, Kimberly, Ed Ammons, Ethelene Dyer Jones, Patty Hall, Karen Larsen Linda Kerlin, Brian Blake, Alica Happily Married To The Cows, Rechelle, Coffeemuses, Sandy Kalvaitis, Belva, Larry Proffitt, Darlene LaRoche, Jen Y, Dale Anderson, Pamela Moore, John, Marianne, Paul Certo, Ken Kuhlmann, Bobby C, Bob Aufdemberge, Dolores Barton, Anne, Rachelle at Nanatahala Farms and Nursery, Angie Siddall, Kathryn Magendie, Sherry, Judy Mincey, Helen G, Sallie Covolo, Garland Davis, Tim Cuthbertson, Clint, Amy Jo Phillips, Jen, Darlene Debty Kimsey, Jo, Carol Killian, Quinn, Steve, Bill Dotson, Granny Pam, Susan Casada, Bernadette, Marylou Sweat, Kay Dallas, Malcolm, Jessica Puckett, Crockett, Bob & Inez Jones, Carynverell, Jessie Improved, BF, Gorges Smythe, Jeanna M, Richard Beauchamp, Byron Smith, Vera Guthrie, John Reese, Jennifer In OR , Jane, Charles Ron Perry Sr., Dorothy, Kenneth Hoffman, Stevie, Missy Steiger, Jon Freis, Mike, BJ, Kris, Diane, Beverly Cook, MmWriter1, Dennis Weathers, Julie, Special Ed, Carol, ArdenLynn, Robin, Suzann Moffitt Leford, Sally K- North Coast Muse, Mary Rutherford, Kristina in TN, Monica, Susie, Mimi, Aunt Ruth, Sheri Rowe, Jeanine Pisciotta, Lewis, Sandy Kueng, Carrollton GA Boy, Debra Stephens, Sam at My Carolina Kitchen, Pam, Georgie, Ray P Algee, Julie at Elisharose, Leon, Shirley Owens, Jenifer Mullis, Ralf, Pollie Robinson, BlueGrassShack, Barb Johnson, Jeff, Rose C, BJ Moore, Judydee, Gloria, Terri, Sandy Wilson, Brian-Green Woodworking, Trish, Terri Hunter, Mike, Ferne Kellow, Thurmon Allen, Mary Holcomb Brock, Gloria Owenby, Robert Wolford, Liz Petty, Majik47, Mark Selby, Lyn Franks, Rudy, Eva, Anette Casada Hensley, Sandy C, Bette Richard, Elithea, Sandy Westfall, Rip Bradshaw, Paula Rhodarmer, Ashley Ransom, Diane, Tiffany L., Laura Williams Musing, Joe, Sarah, Sandy Satterfield, Danette Mowery, Paul from Saltcreek Life, Lisa Misener, Tiffany L., and Cyndia.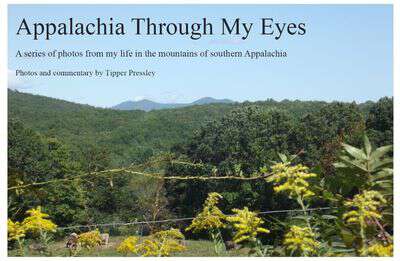 I'm still hearing good news about my book- Appalachia Through My Eyes. So this month's prize is another digital download. If I keep giving them away-surely the good news will keep coming my way!
The winner for April is…Crockett!
Don't forget to click on a commenter's name above and go for a visit-all the ones in orange have a website of their own-I know you'll be glad you did.
Tipper