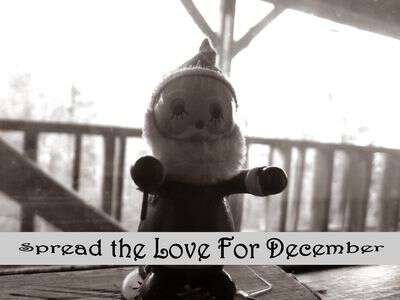 Time to send a big THANK YOU out to all the folks who took time to comment during the month of December-you truly do make the Blind Pig a better place to visit!
Janet, Just Jackie, Julie at Elisharose, Miss Cindy, Brenda Kay Ledford, Osagebluff Quilter, Warren, David Templeton, Martina, Glenda, Fencepost, Rick's Whitetail Woods, Mary Life In A Cordwood Cabin, Paul Saltcreek, B. Ruth, Vicki Lane, Eva Nell Mull Wike, Ph.D., Sarah, Wanda, Stacey South Western PA, Lynn Legge, Pat in East TN, Jen, Sandra, Sheryl Paul, Kenneth M. Roper, Anastasia, Mike McLain, Nancy Simpson, Kenneth O Hoffman, Mamabug, Kat, Lonnie Dockery, Canned Quilter, Jim Casada, Don Casada, Charline, Bradley, Uncle Al, Rooney Floyd, Teresa, Rachel Sliding Through Life, Luann, Ethel, Sheila Bergeron, Jennifer In OR, Melissa P Misplaced Southerner, Wanda Devers, Bill Dotson, Donna W, Sandy Carlson, Janet Pressley, PinnacleCreek, Suzi Phillips, Debby Brown, RB, Pointless Picks, Lise, John Dilbeck , Mary Shipman, Shirla, downthelanegirl, Glynda, Sue Crane, Lisa At 2 Bears Farm, Gary Powell, Ed Myers, Dolores, Sassy, Baking Barb, Charlotte, Mary Rutherford, Elizabeth K, Susie Swanson, Cee, Wayne Newton, Laurie Stone, NCMountainWoman, Tea4Too, Bf, Ron Banks, Mary Berrong, John Stonecypher, Tom, Lewis, Tim Mclemore, Sandy, Rosann Kent, Nancy M., Tony Foster, Brenda 'Okie in Colorado, Carol Isler, Bill Burnett, Leon, Madge, Kimberly, Kim at Stuff Could Be Worse, Ed Ammons, Laura Williams Musings, Carol, Juana, Ethelene Dyer Jones, Patty Hall, Joe Mode, Karen Larsen, Janice MacDaniels, Christine, Lanny, Linda Kerlin, Brian Blake, Laura Cunningham, Sam Ensley, Alica Happily Married To The Cows, Diane, Sam at My Carolina Kitchen, Rose C, Debora Kerr, Fishing Guy, Rechelle, Shirley Owens, Coffeemuses, Grandpa Ken, Sandy K, Belva, Larry Proffitt, Jackie Shound Ringersma, Darlene LaRoche, Jen Y, Ruthie, Judith, Kent Lockman, Barbara Gantt, Dale Anderson, Ebet, Pamela Moore, WinterHawk, John, Mary Lou Sweat, Mama Crow, Barbara Johnson, Mike Echols, Marianne, Barbara Daca, Ferne Kellow, Ronda, Kay Dallas, Jo, Cyndi, Paul Certo, Phyllis Schmitz, Paula, Trisha Too, Lanie, Ken Kuhlmann, YoungHarrisBob, Darlene Debty Kimsey, Bobby C, Marcia Campbell, Gary Greene, Bob Humphreys, Jill, Bob Aufdemberge, Debbie, Bernadette B, Kempie Rackley,Dolores Barton, Anne, Dorothy, Mark Selby, Allen, Rachelle at Nanatahala Farms and Nursery, carynverell, Angie Siddall, Karen, Kris, Rosalinda, Shirley Stinnett, Georgie, Mary Lou McKillip, Jessica Puckett, Smallgood, Shane Moad, Dennis Price, Doctordave, Kathryn Magendie, Sherry Whitaker, Kathy Ferrell, Bob, Lisa Snuggs, George Dengler, JJ, Ruth, Jenny-Jenny, Kendra Bailey Morris, John Ratterree, Judy Mincey, Old Lucky Knife, Amy, Rhonda, Uncle Dave, Bob Dalsemer, Carolyn, Steve Larkin, and Craig Law Horne.
——————–
A few months ago someone asked me if my Appalachia Through My Eyes photo series came in book form. I gave a long sigh……..and said "No. That is something I've thought about doing-but there just isn't enough hours in the day." And quietly-inside my head I said "And who in the world would want to buy one anyway?"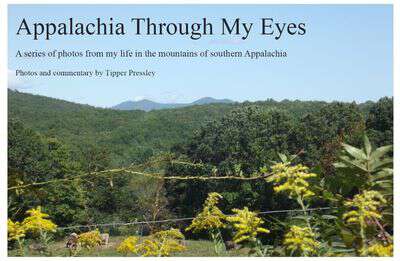 Just a few days later I got an email from someone asking the same question!
I knew I couldn't afford to go to a publisher and self-publish-so I did what I always do when I need something-I started googling. And guess what I found-MagCloud. It's a company owned by HP that allows anyone to easily -and cheaply make a book or a magazine. The cheap part is possible because it is print on demand-meaning no books are printed until someone actually buys one.
Since Christmas was speeding right towards me-I played around with the MagCloud site and made a few books to give as presents. My books were a hit on Christmas morning at Pap and Granny's.
Pap said "Did you really make this?" I said "Yes-I just took it from my blog." My brother Steve said "And you took these pictures?" I said "Yes-I took them for my blog and then I took them from there to make your book."
Everyone else liked the books too and wanted to know if I was going to try to sell them. I explained my book selling predicament to them. How it cost so much to print books-how it was such a hassle to find a publisher-how I didn't have time to figure it all out-how it was only because MagCloud was so easy to use and cheap that I even made one for them. My sister-n-law said "Tipper you already found the answer to all those problems you're talking about-here is the book-and you should sell it because people will buy it. And if MagCloud works like you say it does-then what does it matter if they don't buy it?" She always was the smartest girl in school.
So if you click below the photo up there where is says Appalachia Through My Eyes (or right here) you can jump over to MagCloud and check out my new book. I went back through the series and picked my favorite posts from the series for the book. Hardcopies-they actually have a soft cover- are $14.00 (plus shipping and handling). Each book comes with a free digital download. If you're only interested in the digital downloads-they come in PDF form and are $2.80 each.
You've probably already guessed it-but if not-the prize for December-is a digital download of my new book-and the winner is…Gary Powell.
Be sure to click on a commenter's name above-all the ones in orange have websites-go for a visit-I know you'll be glad you did.
Tipper