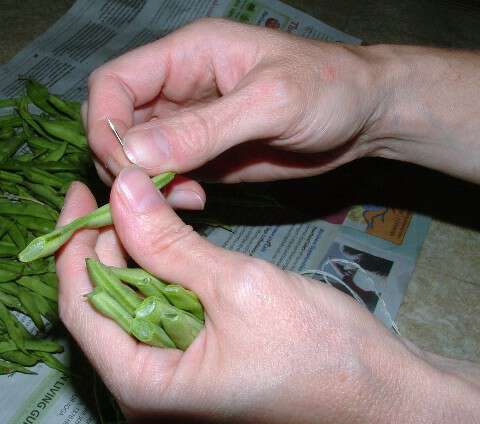 Ever heard of Leather Britches? They're simply dried green beans. Back in the day before-canning jars and pressure cookers were common place-dried green beans-"leather britches" were the most popular way of preserving green beans for use during the winter months.
I've heard of leather britches-but honestly I've never eaten them. In my life time-we ate either fresh green beans or the ones Granny had canned. But making and eating leather britches is something I've always wanted to try.
I consulted my Foxfire books to see how to string up the green beans. The books gave varying directions from different folks. Some suggested breaking the beans before threading them on a string-others said to only string the beans before threading. Miss Cindy shared with me-her Grandmother didn't thread her leather britches at all-she simply placed the green beans on a screen and set it in the sunshine-taking it back inside at night-and repeating the process until they were dry.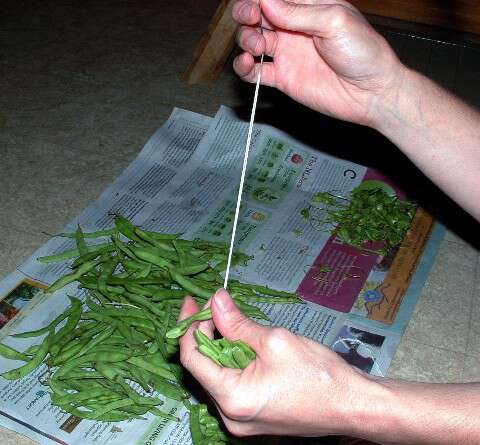 Whether to put the stringed beans in the sun was another point with varying opinions. Some felt the beans should be in direct sunlight others felt indirect sunlight.
Even how to thread them on the string was up for debate. Certain folks said put the needle through the end of the bean pod but never through a bean. Others said put the need directly through the middle of the bean pod making sure you went through a bean. After the beans had dried-some folks simply left them on the string-taking them down as they needed them-others removed the beans once they were dry and stored them in sacks or bags.
So after digesting all of the info-what did I do? I pulled the string from all the green beans, threaded the needle through the end of the bean, and hung my string of leather britches in indirect sunlight where there is plenty of air flow. Will it work ? I don't know do you?
Tipper