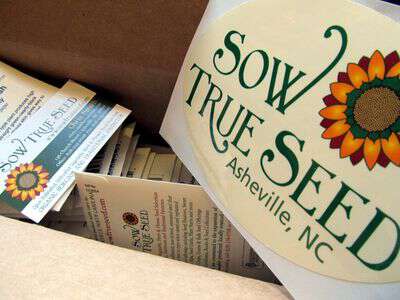 Can you believe its almost planting time? I'm feeling behind already-wishing I had started my seedlings earlier in the year. But I'm trying to catch up-and I have some exciting news to share with you on the gardening front.
Sow True Seed has signed on to sponsor the Blind Pig garden this year-as well as our 4th Annual Planting By The Signs Test. I first heard about the seed company last summer by way of Miss Cindy.
Sow True Seed is located in Asheville NC (they also have a website). I was intrigued by their selection of heirloom seeds from the start-and once I realized they strive to find varieties-both traditional and adapted-that do well in the Southern Appalachian Mountains I was sold.
With an eye on the future, Sow True Seed has taken a stand to help insure the purity of open-pollinated and heirloom seeds-so future generations can continue to grow their favorite veggies-save their seed from year to year and continue the circle of growing that our ancestors have handed down to us.
Sow True Seed has an impressive selection of vegetable, flower, herb, and cover crop seeds.
They offer open-pollinated, non hybrid, and untreated seed-meaning you can save your seed from year to year with each new plant's yield staying true to the original yield.
Much of their seed production is USDA Certified Organic-and they're striving to increase their organic varieties each year.
Heirloom seeds-which are always open pollinated-make up most of Sow True Seed's inventory.
Sow True Seed also offers programs such as:
A Wholesale Rack Program for retail stores
A Fund Raising Program for schools and other organizations
The Community Seed Exchange offers a great opportunity for gardeners local to the Asheville area.
In addition you can get seed collections, seed garlic, sweet potato slips, seed potatoes, and a variety of how to/gardening books from Sow True Seed.
Even though I'm slightly behind in my gardening preparations-I'm really excited about the coming growing season.
I'm tickled pink Sow True Seed has signed on as a sponsor; I can't wait to see how several new varieties I'm trying turn out this summer; The Deer Hunter has added to my raised beds; We're enjoying having our very own greenhouse for the seedlings; and lastly over the weekend I got some exciting news that would really help my garden-and my neighbors too-so keep your fingers crossed for me on that one.
Drop back by in the next day or so to find out the details about the 4th Annual Blind Pig & the Acorn Planting By The Signs Test.
Tipper