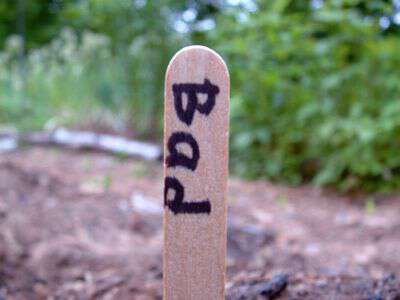 If there was one word to describe the Blind Pig & the Acorn's 3rd Annual Planting By The Signs Test it was bad.
Our test subject for last summer was cucumbers. All participants plant a few seeds on a good day according to the signs-and a few on a bad day-then we compare how or if the plants developed and produced differently. But mostly-we just have a whole lot of fun.
I couldn't tell any difference between my good and bad plants last summer-because they both were horrible. We had the poorest cucumber production we've ever had-so did Pap and Granny. The only difference I noted-was the bad day seeds sprouted before the good day seeds-even though they were planted a day or so later. The plants all came up good-but just failed to produce as they should. Pap wondered if it was because we saw so few bees around them.
Results from other testers:
Penny: I think it was so strange that my bad day cucumbers seem to do better…I did get a couple more cucumbers from them than the good days.
Nicole: Sadly, mine were a flop.  BUT–we had fun trying it and checking them!
B. Ruth: Our cucumbers did great….the bad day came up first even though they were planted later…but the good day came up and soon were growing great…not all the bad day came up….We had so many cucumbers this year that we had to sneak up to the neighbors house when he was gone to prayer meeting and hang them on his door…LOL
Sylvia: We planted them all, 3 of the plants didn't come up at all, and three did, but only one of them produced anything. I think all in all we got 3 cucs! Cest la vie! Maybe next year they will be better!
Terry: Mine burned up so fast this year,we didn't get any.
Mark: Mine did right well for a while, but then they were overtaken with gourds. We may have gotten a couple of cukes off them. For a while, I thought I could tell a distinct difference between the ones planted in the bad signs and the good signs, but then once they became hidden in the gourd jungle, I lost track. Sorry about that. Nevertheless, it was fun while it lasted.
Helen: Here's the post with the final report. Reddirt Woman Mine didn't survive the heat. I got a few but not like on past tests.
Jennifer: The good day ones started out ahead of the "bad" day ones, but then it all evened out. There was no difference in the number of cukes in the end and frankly, they all pooped out earlier than I had hoped.
David Templeton: I planted both good day and bad day cucumbers in close proximity so earth was same. Although we had a long period of hot, dry weather, I kept them watered. I kept the growing vines on tomato cages rather than allowing them to lay on the ground. Having said all that, none of the vines produced. The yield was almost nothing.
Rachelle: Mine were a total flop. I think that cold snap that we had about the time that we planted them done mine in. I am not planting anything outside next year until June. LOL
Barbara: Mine were a flop. I got a couple of cukes from the bad day plants. Then the squash bugs killed the plants. I was so mad. I had planted marigolds, nasturtiums to help kill the bugs. Didn't work, I really got no cukes or squash all summer. One pumpkin that didn't turn all the way orange.
Carrie: The chickens ate our's so they were a flop too. lol…not a good cuke year!
Stacey: I did have some sort of cross pollination and the cucs were orange in color and more fat(ish) rather than long. The production wasn't great for either but the ones planted on the good days did a bit better in the production department.
Becky: The bad day seeds grew 5 vines and I picked exactly 7 cucumbers from those vines. The good day seeds grew 2 vines and I picked exactly 7 cucumbers from those vines. With less than half the plants the good day cucumbers yielded the exact same amount. Even though they didn't produce many cucumbers I still say it was somewhat of a successful  comparison of good day/bad day examples.
Mamabug: My poor cucumbers just died from the intense heat we've had this summer. No matter how much we watered the sun just baked those plants. We plant so much earlier here in Florida they just didn't have a chance to make it being planted in May.
Warren: Both my good and bad plants did well until deer or something ate all of the good plants and some of the bad plants. The 3 bad plants that are let are doing great though!
—————–
I told you it was bad-I believe the only folks who had success in any form were B. Ruth and Mark-the rest of us were attacked by heat, rain, chickens, deer, bugs, and just plain bad luck.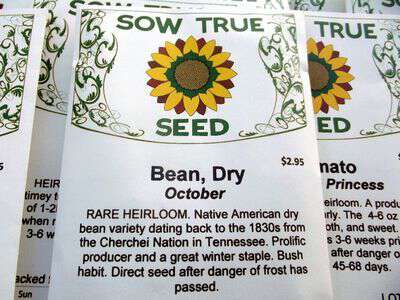 But hey this year is a brand new summer with a brand new garden so I say lets move on to the Blind Pig & The Acorn's 4th Annual Planting By The Signs Test! Sow True Seed has generously decided to sponsor this year's test-and they've donated enough seed for close to 40 participants.
This year our test plant will be a Heirloom Bean that is good for drying-around here we call them October beans-because that's typically when they are vine dried enough to be shelled out for later use. The following is a quote about the bean from
Sow True Seed
:
Rare Heirloom. Native American dry bean variety dating back to the 1830s from the Cherchei Nation in Tennessee. Prolific producer and a great winter staple. Bush habit. Direct seed after danger of frost has passed.
Now for how the test details-I mail you the seeds-you plant a few on the best day according to the signs-and you plant the others on the worst day according to the signs-informing me through out the season how each 'days' plants are doing. Along with the package of seeds I send-I'll also send detailed instructions about which days to plant on.
 *This planting project has ended, but be on the lookout for the next one.
One more thing-if you know anything about the Cherchei Nation in TN-please leave me a comment-the only information I could find just kept bringing me right back to the heirloom October bean.
Tipper