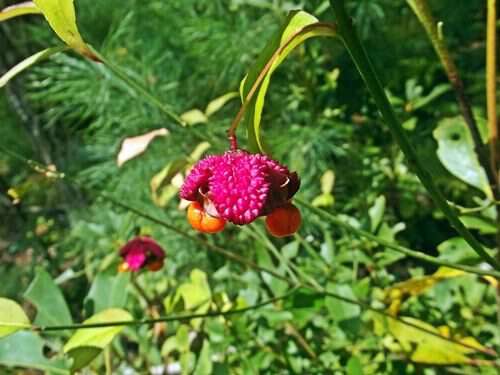 Strawberry bush noun A wild shrub (Euonymus americanus). Same as hearts a-bustin' (with love).
1937 Thornborough Great Smoky Mts 25 The seeds of some shrubs are more spectacular then their flowers. This is true of one of the showiest shrubs in the Great Smokies, the euonymous, wahoo or spindlebush. It is especially lovely in October when its seed-pod bursts open, displaying orange-colored seeds in its glowing red heart. It has many descriptive local names—swamp willow, strawberry bush, catspaw, jewel-box, but most descriptive of all is the name given by a mountain man of, "Heart's-bustin'-with-love." 1970 Campbell et al. Smoky Mt Wildflowers 102 Common names include strawberry bush, swamp dogwood, spindle bush, arrowwood, wahoo, and a dozen others.
Dictionary of Smoky Mountain English
—-
For most of the growing season the bush is one you hardly notice. But come fall of the year it really puts on a show with its hot pink heart bustin open to reveal the red berries inside. I've only heard the plant called hearts a bustin, but all the other common names mentioned in the dictionary entry fit it pretty good too.
Tipper
Subscribe for FREE and get a daily dose of Appalachia in your inbox