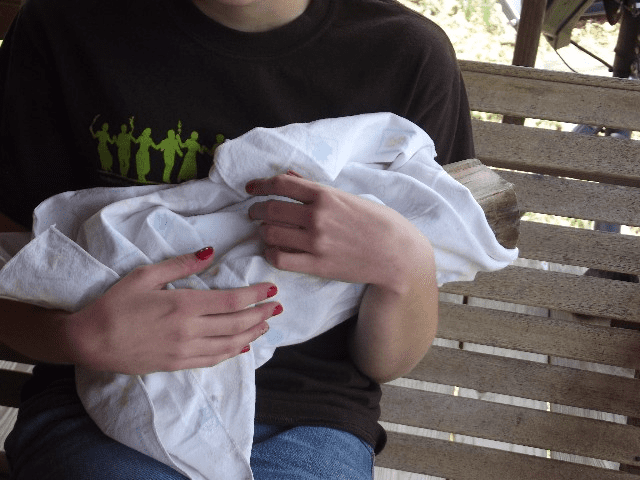 When I was a little girl my favorite thing to play with was my dolls. There was a doll on my Christmas wish list every year. I had dolls with hair that grew and ungrew; a doll that walked back to you; a doll that twirled like a ballerina; and all kinds of dolls that looked like newborns. I still have what had to be one of my first newborn dolls. I used to pretend it was baby Moses and I was the princess who found him floating in the river. The same doll played baby Jesus in more than a few church Christmas plays.
Chatter and Chitter didn't care so much about baby dolls when they were little. They liked any kind of stuffed animal, but baby dolls not so much.
I've read stories about how back in the day all sorts of things were used as baby dolls. People used old rags to make dolls; of course there were corn-shuck dolls; and the Foxfire 6 Book tells of cucumbers, apples, and potatoes being used as dolls.
It's Not My Mountain Anymore written by Barbara Taylor Woodall, has two stories about dolls. After reading them I knew I'd never forget either one. The first was about her little sister.
Barbara tells of how her sister loved to play with paper dolls she cut from old Sears books. She would pretend the dolls were attending church, playing out all the regular church routines like passing the offering plate, having an altar call, and singing in the choir. Barbara's sister played her game of church dolls in front of the open fire place with small pieces of kindling for her church pews. After she was finished, her Mother would sweep the whole mess into the fire cleaning up the dolls and burning them up all at the same time. As her mother cleaned up the mess her sister would chastise the dolls and tell them they should have listened to what she told them during the service and they might not have been sent to the fiery furnace.
The second story was about Barbara's brother drawing a beard on her only baby doll, Nancy Louise, cutting all the doll's hair off and then throwing it out in the snow naked. As I true doll lover, when I read about Barbara's brother I wanted to reach back through the years and pinch him good!
Bev, one of my best friends from childhood loved dolls as much as I did. One time she got a blond blue eyed doll as a gift we both took turns playing with the doll. It was so pretty. Then a miracle happened or at least we thought it was a miracle. Her Daddy seen a box full of toys sitting by the side of a dumpster. He looked in and found another blond headed blue eyed doll just like the one Bev already had. He brought it home to her and neither of us could believe our good fortune! The doll was just like new except it had paint or something spilled on its back side. We both decided the paint was like a birthmark and after we put clothes on the doll no one could see it no how. After I had Chatter and Chitter, I thought back to those twin baby dolls and the joy they brought me and Bev more than a few times.
As I said, Chatter and Chitter didn't care much for dolls. However, reading about the potato and cucumber dolls did bring a memory back to the surfaces of my mind.
The girls and their cousin were about 6 or 7 years old. We were working outside in the spring of the year or maybe it was the fall who knows. I went to check on the girls and discovered all 3 of them had gotten a log from the woodpile they had them wrapped up with old rags pretending they were babies. I said "Why don't you go in and get some real dolls to play with?" They all said "No they liked their log babies better." They carried them things around all day long. I guess when it comes to playing imagination is the best toy there is.
Tipper
*Sources Foxfire 6; It's Not My Mountain Anymore written by Barbara Taylor Woodall