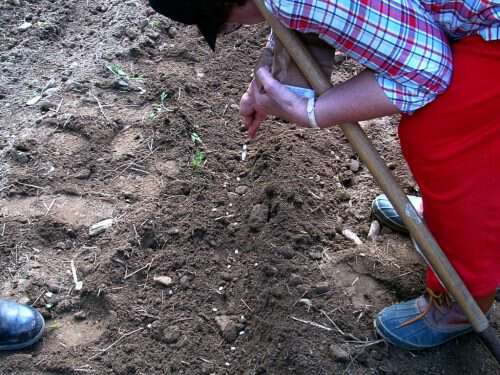 Granny working with Pap in the garden back in day
I've been helping Granny work in her yard. We've cleaned up last year's debris and planted a few seeds. She isn't able to get out and work like she once did and in her absence of keeping things trimmed back nature has about took over the place.
Although looking at the wildness of overgrowth makes me wish for a magic wand to banish it all back a couple of feet or at least for the time to spend cutting it back myself Granny sees beauty and hope in the tangle.
As we walk slowly around the yard with her holding on to my arm and her sturdy walking stick she found in the edge of the woods she points out the beauty amidst the chaos. A rose about to bloom here, a large hydrangea leaf there, a teeny tiny plum.
On the day we planted the containers she keeps close to her porch she asked me to get a piece of wood that was nearby to lay in front of the ones we planted peas in. She said "Move that one up a peg and lay that board in front to keep the mower from hitting them." Once I had the board laid in protection of the peas Granny said "Oh that's real nice. Now next year we'll make it bigger and have us a nice little garden there."
When Pap died six years ago I didn't think Granny would make it long. In fact I was afraid she wouldn't make it two years, which was necessary for the life insurance policy she took out to pay her final expenses.
We didn't have a clue about what funerals cost until Pap died. Thankfully he had life insurance that paid for everything, but somehow they never took out a policy on Granny. After seeing the cost of a very modest funeral, Granny and I decided getting a small life insurance policy on her needed to be done as soon as possible.
Because of her age and health, it took some time to find one, and once we did she needed to make it two years for it to be fulfilled.
I was ready to give up on Granny six years ago and here she is planning next year's garden with gusto when we haven't even got this year's planted yet. I aim to try to be as hopeful as Granny is and to look for beauty hiding among all the things that need doing.
Last night's video: How We Plant Tomatoes & Our Favorite Heirlooms to Grow.
Tipper
Subscribe for FREE and get a daily dose of Appalachia in your inbox