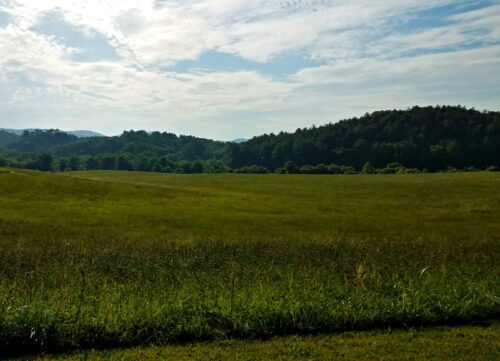 If you've read Blind Pig and The Acorn for any length of time you've heard me opine about the beautiful mountains I'm blessed to live among. Their very presence makes me feel safe and secure.
Chitter has been sending us photos from her trip out west and I've been amazed by the sights she's shared as she crossed the United States. When she was in Iowa, one photo showed the open prairie with a couple of trees in a little group in the distance. I told The Deer Hunter "Reckon every animal and person in the area visits the trees to have a little shade and cover?"
I could just see it in my mind—animals and people flocking to the set of trees all at the same time desperate for the safety they offered. Of course my feelings come from the fact that I've only lived in the middle of a heavily forested region of the country and literally cannot fathom living in such a wide open space.
Although I'm in love with the smoky blue clad mountains I live in they still jump up and surprise me every year when green up has happened.
I'll be driving to and fro as I go about my life and suddenly I see the mountains in their newly leafed out glory hugged right up next to the road I'm on. As my eyes drink in the sight I'm shocked by their size, color, and beauty.
Last night's video: Dorie Woman of the Mountains 16.
Tipper
Subscribe for FREE and get a daily dose of Appalachia in your inbox