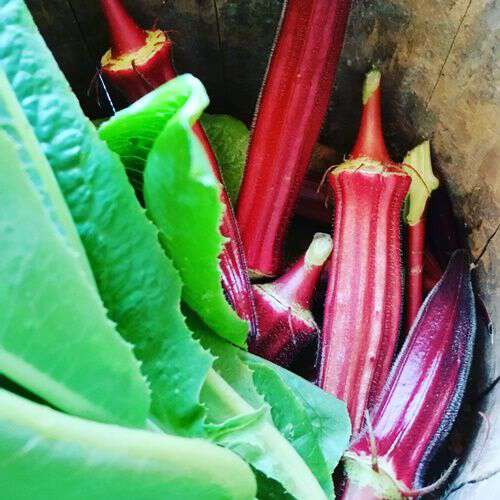 Our garden is almost done for this year. We're still getting peppers, tomatoes, and okra, but that's it. As with most years, our garden success was a mix-up this summer.
Our squash and zucchini did excellent. As did the okra, lettuce, and greens.
We probably had the worst tomato year we've ever had. Even the small tomatoes didn't do well. My cucumbers didn't produce much this summer either. I grew enough for two runs of pickles and a few to eat and that was it. Same luck with radishes, onions, and beets. I planted the onions twice and neither planting produced anything much.
Unbelievably I didn't manage to grow one candy roaster or pumpkin. The vines just would not seem to grow this year. Usually they're growing so much that I feel like pruning them to keep them from taking over the place.
Our beans did so so. Nothing like they usually do, but we never managed to get them fertilized and that's probably why.
My blueberries were outstanding this year and the grapes were good too. My hope for watermelons was wasted on whatever varmint decided to gnaw on them before they could grow bigger than a softball. Same for my cantaloupe and other melon.
Even with the lack or bust of growth, we still manage to have more than enough to enjoy and to put up for when old man winter comes calling.
I'm hoping to get some fall lettuce and kale planted, but haven't gotten it done yet.
Tipper
Subscribe for FREE and get a daily dose of Appalachia in your inbox