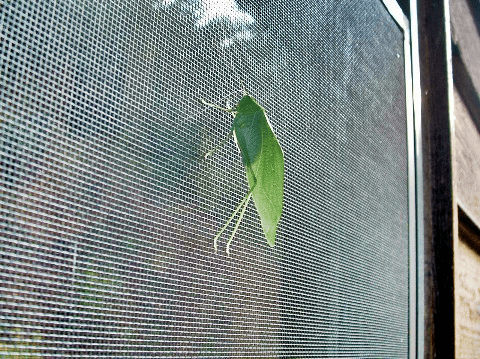 As summer gives way to fall-one of the things I will miss-is the nightly song of Katydids around my house. Earlier this summer while attending a contra dance, I stepped outside to try to escape the heat. A gentleman remarked to me that nights in this part of the US were really loud. Took me a minute to figure out-he was talking about the Katydids.
Each spring I anxiously await the katydid chorus-thinking this will be the year that I'll notice the first chirp they make. It never happens. Suddenly one night I hear them in full concert and wonder how many nights they've been singing while I was too busy or tired to notice.
I remember listening to the katydids when I was a little girl. With no air conditioning-all the windows in the house were left open during summer nights-which made for a surround sound of katydid voices. Somewhere along the way I picked up the story of how the katydids got their name. I don't recall if someone told me or if I read it in a book. The gist of the story:
There was a lovely maiden named katy who fell in love with a handsome man. She loved him with all her heart and soul and only wanted to please him. Fate turned against her-the handsome man fell in love with her sister. The pain of seeing them together was to much for her and in a fit of jealous anger she killed them both. No one in town would have ever believed she killed them-but the bugs turned against her. Telling the towns people- Katy did it Katy did it.
I would amuse myself by trying to prove the katydids were saying something else like 'yes she did no she didn't yes she did no she didn't'. I guess I felt sorry for the heart broken Katy and wondered if the bugs were really sure she killed the lovers.
Some other Katydid folklore:
katydids sing to bring in cold weather
3 months from the first katydid chirp there will be frost
the earlier in the summer you hear the katydids-the earlier the first frost will be that fall
the first katydid you hear in July-it'll frost on the same day of the month in September
This is what the katydids sounded like earlier in the summer-as I stood on my front porch.
Do you have katydids around your house in the summer? Do you like their song?
Tipper