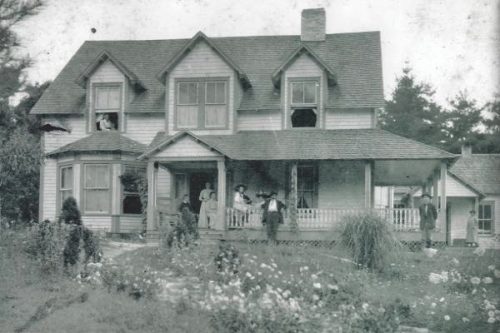 Cole-Tate House courtesy of the Laurel Magazine
Cashiers Valley
Kidder Cole was the belle of the mountains. A boy in homespun wrote a song about her to soothe a burning heart. It became the most famous banjo ballad in all the land. He's a retired superior court judge now and Kidder Cole is dead, but the ballad is still remembered and played at square dances when the old-timers gather with fiddle and banjo.
Oh, my sweet little Kidder girl!
You cause my head to spin and whirl,
I am yours, and you are mine
Long as the sun and stars shall shine.
A ballad like "Kidder Cole" never does grow old. Someday some tunester is going to rediscover it and it will become as popular as it was when Felix E. Alley wrote it sixty-five years ago. He now lives in Waynesville, basking at eighty-two (Judge Alley has died since this was written) in the memories of a brilliant career as a lawyer and judge. But now and then he returns to the valley where he loved and laughed and danced and played his banjo as a boy. And when he does, the words that chronicle a boyhood romance must run through his mind…
My name is Felix Eugene Alley
My best girl lives in Cashiers Valley;
She's the joy of my soul
And her name is Kidder Cole.
He wrote the ballad about her because he let another mountain youth beat his time. And it took 15 stanzas to soothe his burning heart.
I don't know—it must have been by chance,
'Way last fall when I went to a dance.
I was to dance with Kidder the livelong night
But got my time beat by Charley Wright.
Felix Alley was only sixteen at the time. Kidder Cole was about the same age. They were neighbors. Her father was a merchant and later high sheriff of the county. It was only natural young Felix's eyes walked after Kidder Cole. She was the beauty of the mountains, and her beauty followed her through the years.
An all-night dance at the home of an Englishman named Grimshaw inspired the ballad. . . Young Felix was late in arriving at the dance. And through the doorway he saw, to his bitter disappointment, that Kidder Cole had been claimed by his cousin, Charley Wright. Charley was bigger than Felix, and he let it be known right away that Kidder had promised him all the dances that night. "Before the night was over," Judge Alley recalled, "I had commenced composing the ballad. While Charley danced away the night with Kidder I reeled off stanza after stanza of the ballad."
If I ever have to have a fight
I hope it will be with Charley Wright;
For he was the ruin of my soul
When he beat my time with Kidder Cole.
When the dance was over I went away
To bide my time till another day,
When I could cause trouble and pain and blight
To sadden the soul of Charley Wright.
But she came back the following spring
And oh, how I made my banjo ring;
It helped me get my spirit right,
To beat the time of Charley Wright.
Kidder came home the first of June,
And I sang my song and played my tune;
I commenced trying with all my might
To put one over on Charley Wright.
When the speaking was over we had a dance
And then and there I found my chance
To make my peace with Kidder Cole
And beat Charley Wright; confound his soul.
Charley came in an hour or so,
But when he saw me with Kidder he turned to go
Back to his home with a saddened soul,
For I'd beat his time with Kidder Cole.
I've always heard the old folks say
That every dog will have his day;
And now all of Charley's joy has passed,
For I've succeeded in beating him at last.
Oh, yes Kidder Cole is sweet;
And it won't be long until we meet
At her home in Cashiers Valley
And she'll change her name to Alley.
Now his ballad was sung, now his tune was ended. Did he win the belle of the mountains? "Why, no," said Judge Alley. "Neither Charley Wright nor I won the heart and hand of Kidder Cole, although the ballad indicates I was the lucky one. Youth is quite sure of love."
—John Parris – "The Ballad of Kidder Cole"
—-
What a great story! I can just see the two boys trying to be Kidder Cole's beau.
Here's a video of Bascom Lamar Lunsford singing the ballad, although I'm not sure his lyrics are the same ones quoted in Parris's article.
I hope you enjoyed the story and the ballad!
Tipper
Subscribe for FREE and get a daily dose of Appalachia in your inbox