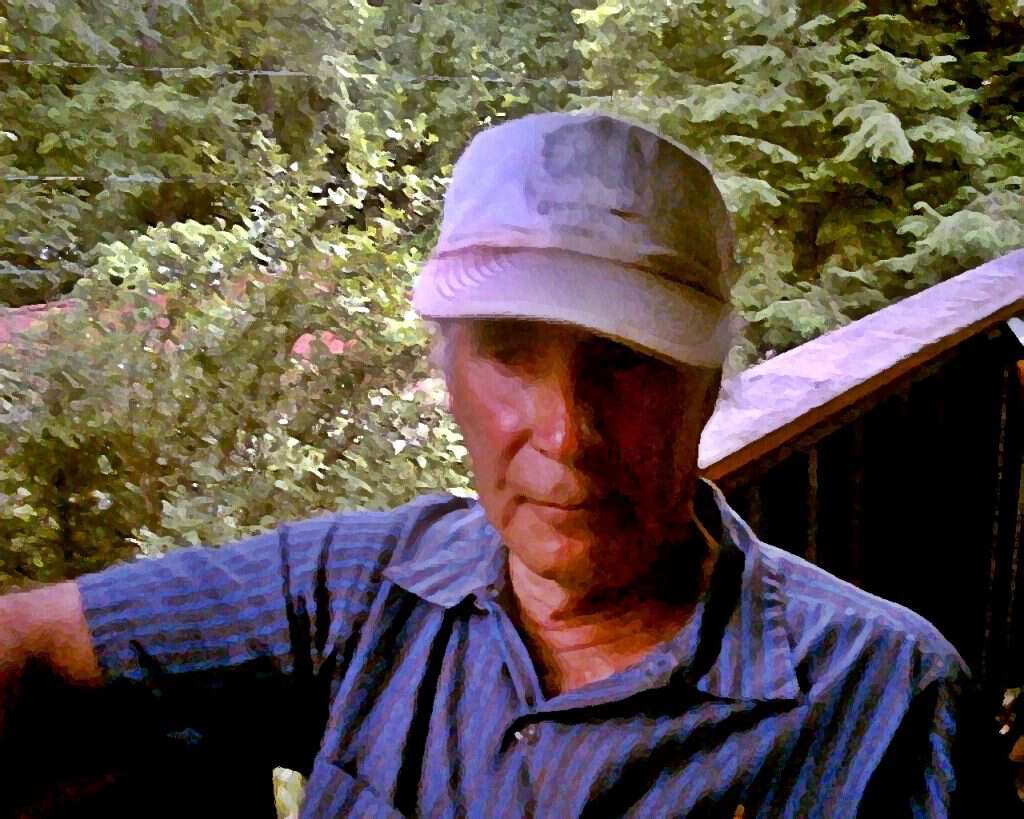 Pap – photo by Chitter
We went on a long hike yesterday. We tramped up steep mountain ridges and slid down narrow leaf filled mountain hollers. As always Chitter picked up way too many rocks and by the end of the day she was having a hard time keeping up because her backpack was heavy. Staying out half the night making music the night before didn't help any either.
The Deer Hunter and I were pleased that we can still out do the girls when it comes to hiking. He said "But you know, it won't always be like this. Someday we won't be able climb up steep ridges and slide our way down the other side."
I've already got enough creaky joints to know he's right, but I don't like to think about getting old.
When I was growing up Pap was like Superman. There wasn't nothing he couldn't do-at least that's how I saw him. When I was a little girl and got too tired to walk Pap would hoist me on his back and carry me till I rested enough to walk behind him again. I can still remember how it felt to be on his back with his sure footsteps leading us back home.
As Pap got older he couldn't do the things he'd always done. I know it bothered him that he could no longer take off up the creek and walk the mountains he roamed as a boy.
One of my favorite hymns to sing in church was "Where We'll Never Grow Old".  The website hymnstudiesblog shares the following information about the man who wrote the song.
"The text was written and the tune composed both by James Cleveland Moore Sr., who was born on May 2, 1888, at Draketown in Paulding County, GA, the son of Charles Robert and Mary Ellen Hesterley Moore. Intending to become a Baptist preacher, he was educated at Draketown Baptist Institute, Mercer University at Macon, GA, and the University of Florida. Also, he received musical training under Benjamin B. Beale and J. Henry Showalter.

In 1914, while a 26-year old seminary student at Mercer, Moore visited to preach in his home church at Draketown, where his aging father had led the singing for years. The elder Moore's voice failed him and the son said that he knew that he would not be hearing his father sing much longer. Back in school at Macon, James produced the hymn with the incident still fresh in his mind, and wrote, "Dedicated to My Father and Mother." Apparently, it was not published until 1930."
In March of last year Paul uploaded a video of him and Pap doing the song "Where We'll Never Grow Old" at the Historic Union County Courthouse. The video was provided by Ridgeline TV.
I hope you enjoyed the song. Pap don't have to worry about getting old anymore and someday I won't have to either.
When the girls were little they'd sing where we'll never get cold instead of where we'll never grow old. They really thought the song was about not getting cold in heaven 🙂
Tipper
Subscribe for FREE and get a daily dose of Appalachia in your inbox